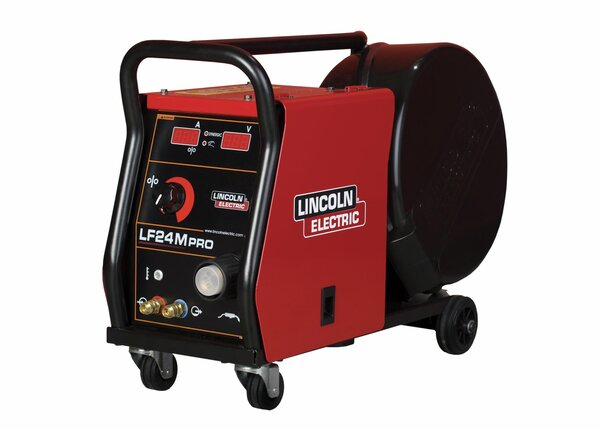 The LF-24M PRO is wire feeder designed to withstand extreme environmental conditions. With this feeder, there is a focus on ruggedness construction, physical dimensions and ease of use. The result is an incredibly rugged, protective casing as standard complete with undercarriage for use under tough industrial conditions. LF-24M PRO wire feeder is meant for big D300 (16kg) wire spools, solid or cored wire (including Innershield). It's equipped with a rugged 4 roll wire feed unit, 2/4-step, run-in, gas pre-flow, wire inch and gas purge. Two clear digital meters display the welding voltage and amperage. The LF-24M PRO allows to work with in Synergic mode.
Feature.Products.PDP.DetailsMain.Features
Small, robust, flexible & complete
Continuous control of wire feed speed.
Trigger mode selection – for standard two-steps or interlocking four-steps.
Gas purge – to strike the arc with full shielding
Burnback – preventing the wire sticking in the weld pool
Cold inch control – used to feed the wire into the torch
Delivered mounted on an undercarriage.
Synergic mode.
Service Information
What's Included
Drive roll kit 1.0-1.2mm for Steel
Weights & Dimensions
| | |
| --- | --- |
| Dimensions (H x W x D) | 440 mm x 275 mm x 636 mm |
| Net Weight | 17 kg |
Features
| | |
| --- | --- |
| Machines Processes | MIG (GMAW) |
Wire Feeding Specifications
| | |
| --- | --- |
| Number of driven rolls | 4 rolls |
| Feeder type | Portable |
| Configuration | Single |
| Max spool diameter | 300mm |
| Communication Technology | analog |
| Max Rated Output Capable | 500A |
| Max Wire Diameter (Solid) | 1.6 mm (1/16 in) |
| Max Wire Diameter (Cored) | 1.6 mm (1/16 in) |
Application
Typical Application
Construction
General Fabrication
Heavy Equipment
Heavy Fabrication
Power Generation
Railcar Fabrication
Railing Industry
Shipbuilding
Structural Fabrication