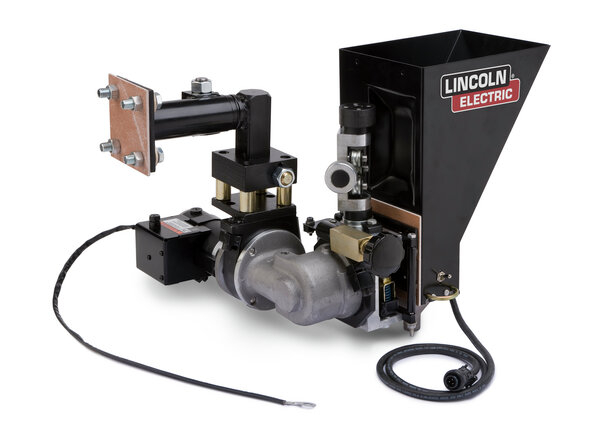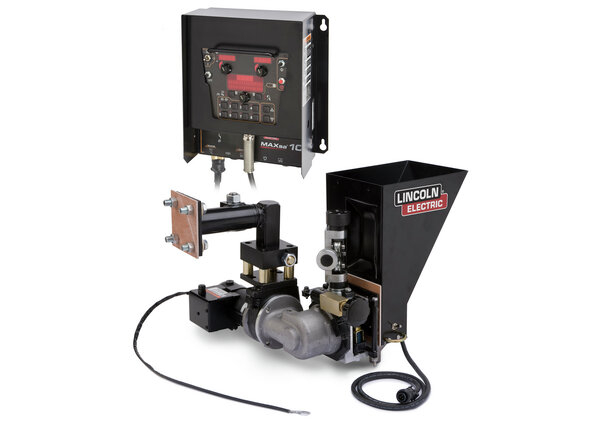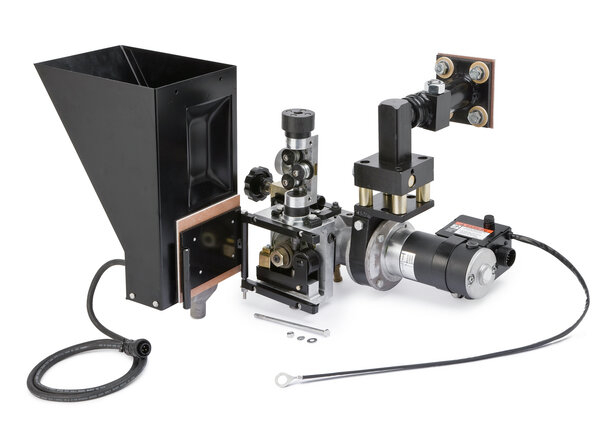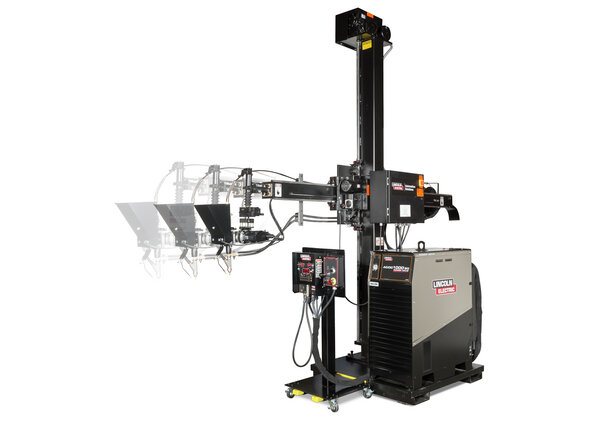 Designed specifically for hard automation applications, the MAXsa® 22 Feed Head delivers accurate wire feeding of large diameter submerged arc wires. Based on Lincoln's proven gearbox and cast aluminum feedplate, the MAXsa® 22 model features a 40VDC permanent magnet, high torque motor that delivers plenty of traction to push up to 7/32 in. (5.6 mm) diameter solid wire. A top speed of up to 500 ipm (12.7 m/min) can be achieved by changing the gear ratio.
Feature.Products.PDP.DetailsMain.Features
Flexible Configuration - Can be used in single, tandem, Twinarc or multiple arc applications.
Closed Loop Speed Control - Facilitates full control over starting, running and stopping wire feed speed.
Wide Range of Wire Feed Speed – Gear ratio conversion kits allow for a wide range of WFS capabilities to match the requirements of your application.
Rotatable feed head allows flexible, accurate setup for fixturing.
Standard Accessories – Including an adjustable wire straightener, cross-seam adjuster and electrical valve flux hopper and mounting bracket for TC-3 carriage.
What's Included
MAXsa® 22 Feed Head Adjustable wire straightener Cross-seam adjuster Electric flux hopper Mounting bracket for TC-3 carriage
Service Information
Weights & Dimensions
| | |
| --- | --- |
| Dimensions (H x W x D) | 305 mm x 355 mm x 254 mm (12.0 in x 14 in x 10 in) |
| Net Weight | 36.3 kg (80.0 lbs) |
Wire Feeding Specifications
| | |
| --- | --- |
| Wire Feeders Processes | SAW |
Technical Specifications
| | |
| --- | --- |
| Input Voltage | 32 VDC |
| Input Current | 6.7A (max.) |
Application
Typical Application
Heavy Fabrication
Piping
Power Generation
Pressure Vessels
Process Piping
Robotics/ Hard Automation