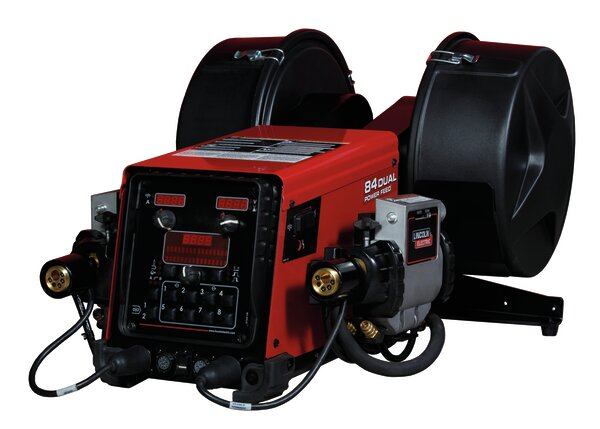 The Power Feed 84 dual digital control semiautomatic wire feeder is modular and built for a variety of welding applications.
Feature.Products.PDP.DetailsMain.Features
World-class arc performance on steel, stainless steel, aluminium and other materials
Waveform Control Technology® – featuring patented processes such as Pulse-On-Pulse® (for a TIG-like bead appearance) and Power Mode® (for a stable arc at low current levels
Utilises ArcLink® – the leading digital communication protocol for welding, making it the best choice for seamless, time critical integration with the power source.
Pulsed MIG process – great for low spatter, low heat input and out-ofposition applications – makes virtually any operator a better welder!
Easy-to-understand user interface panel with large numeric displays makes it easy to set weld parameters.
Push-pull capability for great performance on aluminium.
What's Included
Control cable asembly

Drive roll 1.2mm V-Groove

Drive roll 1.6mm V-Groove
Service Information