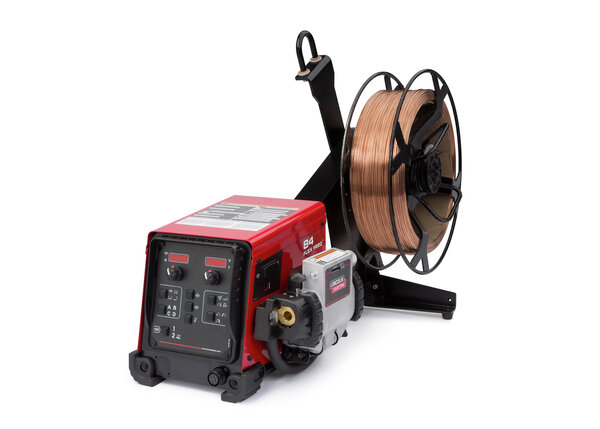 The Flex Feed 84 series of wire feeders are use analog communication and can be paired with Lincoln Electric power sources that include a 14-pin Amphenol connection and 42V wire feeder power supply. These can handle a range of wire diameters from .025" up to .120". The Flex Feed models include single bench, dual bench, single boom and dual boom configurations. There is an option for a separate gouge stud connection. Another option is to include a contactor between the two wire drives of a dual head model or between the gouge stud and wire drive of the models that include these. The contactor adds increased safety by ensuring that only the output that is being used is electrically live and the other side is not.
Features
4 memory locations for storing and quick recall of saved weld parameters.
Ability to set limits on the wire feed speed and voltage to help ensure quality welds.
Weld memory parameters can be locked down with a pass code to help prevent accidental changes.
Single and dual wire drive configurations for quickly changing wire diameters or alloys being used.
Boom configurations separate wire drive controls from the wire drive. Suitable for mounting the wire drive on a boom.
An optional contactor ensures that each side of a dual head feeder is electrically isolated during welding.
Multiple options for gun connectors to allow nearly any welding gun to be used with the feeder. The #2 - #4 gun connection is standard and included.
Patented MaxTrac wire drive system fully supports the wire in this 4-roll system and greatly reduces any chance of birdnesting. No need to align incoming and outgoing guide tubes or drive rolls.
Typical Applications
Fabrication Shop Applications.
Wire feeding weld processes.