Lincoln Electric Announces new Software Updates for the PIPEFAB™ Welding Platform
New update provides enhanced operator control features along with additional weld modes for improved arc performance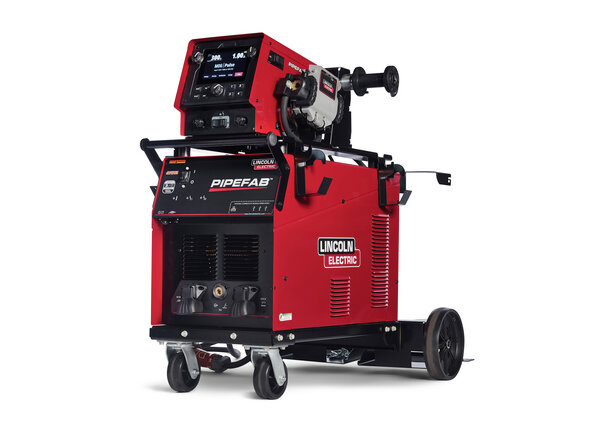 Cleveland, OH - With the launch of a new software update, Lincoln Electric has expanded the features and capabilities of the PIPEFAB Welding Platform. This latest free software update introduces a handful of powerful new operator controls and optimized weld modes that further enhance system ease-of-use and overall welding performance for pipe and vessel fabricators.
"This latest software update for the PIPEFAB Welding System is another example of Lincoln Electric's drive to deliver the industry's leading pipe and vessel welding system." Says Haley Hagan, Product Manager at Lincoln Electric. "With access to enhanced operator ease-of-use features, as well as our patented HyperFill weld process, this software update allows operations to continue to take their productivity and quality to new heights while improving overall system simplicity".
HyperFill® Weld Mode*
Perfect for heavy-wall pipe and vessel application, Lincoln Electric's patented HyperFill twin-wire MIG is now available on the PIPEFAB welding system, helping to expand welding capabilities and easily achieve deposition rates above 20 lb/hr.
Trigger Memory Recall
With the update, operators have access to enable Quick Trigger, Trigger Memory Recall, and Dual Procedure Support allowing operators to quickly change MIG and FCAW processes through the welding gun and eliminating downtime or unnecessary trips back to the welder.
Enhanced USB Features
New USB functionally now allows operators and supervisors improved equipment control and traceability, including PIN authorization capabilities by setting up USB keys, as well as improve Snapshot features for troubleshooting.
Expanded Process Memories
With the expansion of the PIPEFAB process memory features, operators can now save and recall up to 10 preset parameters per process, allowing 60 total memory slots for improved process control.
Non-Synergic Weld Modes
For operators looking to fine-tune their process, the new software update also enables manual, non-synergic CV MIG and FCAW weld modes.
To download the latest PIPEFAB software update – visit: www. pipefabsoftware.com
For more information on the PIPEFAB welding system – visit: www.lincolnelectric.com/pipefab
* Solution Requirements:
HyperFill® is a patented and licensed twin-wire MIG solution that is designed to perform specifically with select Lincoln Electric welding wire. The solution requires a licensed waveform which may require an additional purchase. For more details, reference document MC20-106.
About Lincoln Electric
Lincoln Electric is the world leader in the engineering, design, and manufacturing of advanced arc welding solutions, automated joining, assembly and cutting systems, plasma and oxy-fuel cutting equipment, and has a leading global position in brazing and soldering alloys. Lincoln is recognized as the Welding Expert™ for its leading material science, software development, automation engineering, and application expertise, which advance customers' fabrication capabilities to help them build a better world. Headquartered in Cleveland, Ohio, Lincoln has 56 manufacturing locations in 19 countries and a worldwide network of distributors and sales offices serving customers in over 160 countries. For more information about Lincoln Electric and its products and services, visit the Company's website at https://www.lincolnelectric.com.