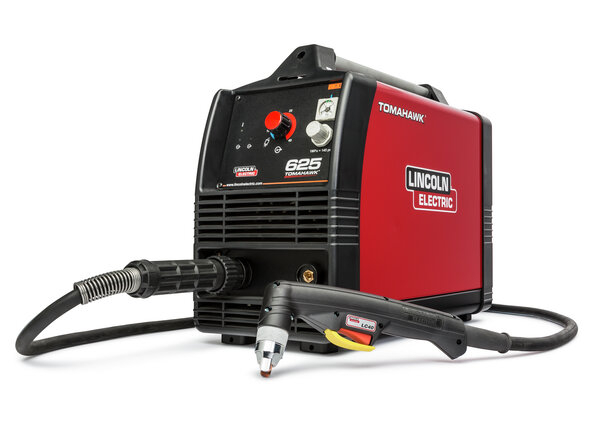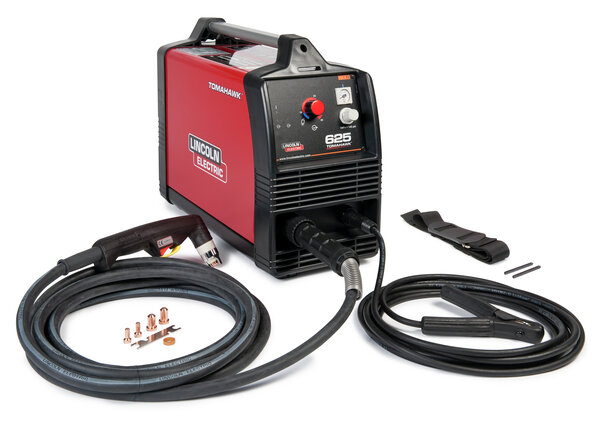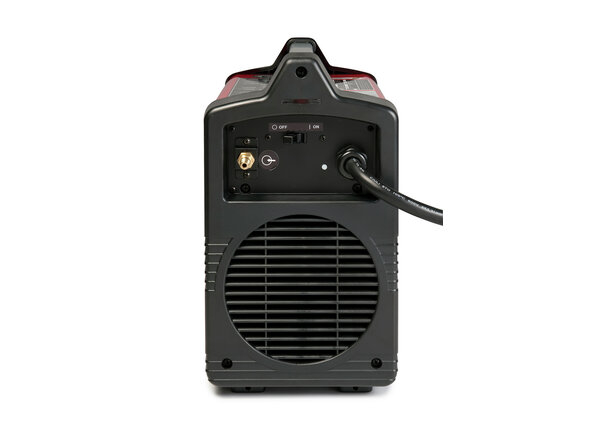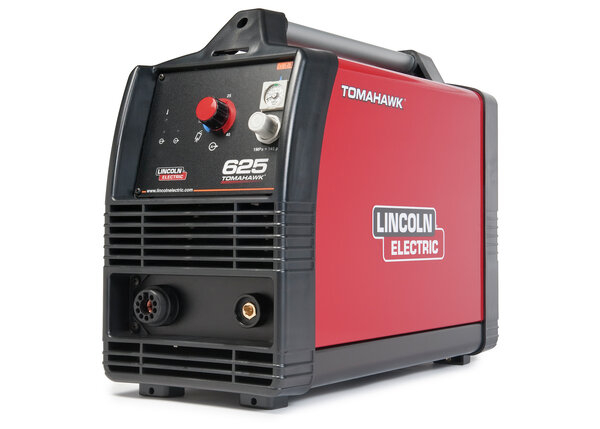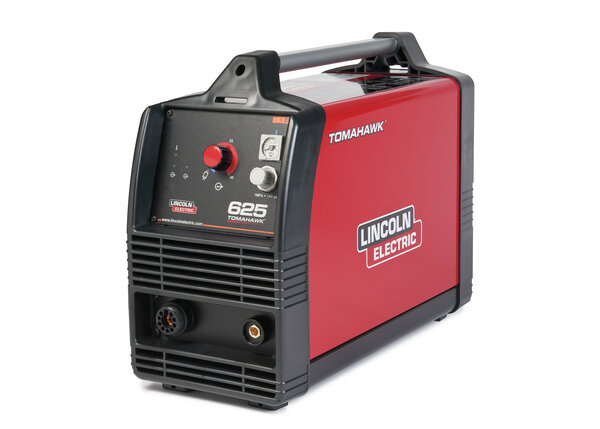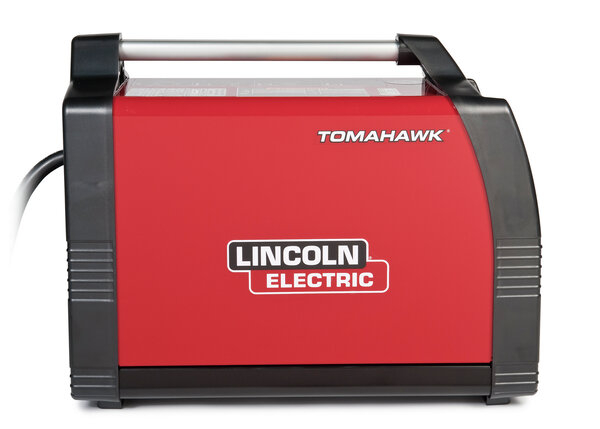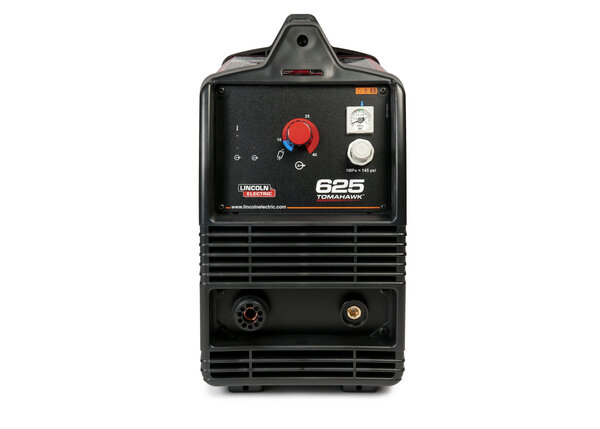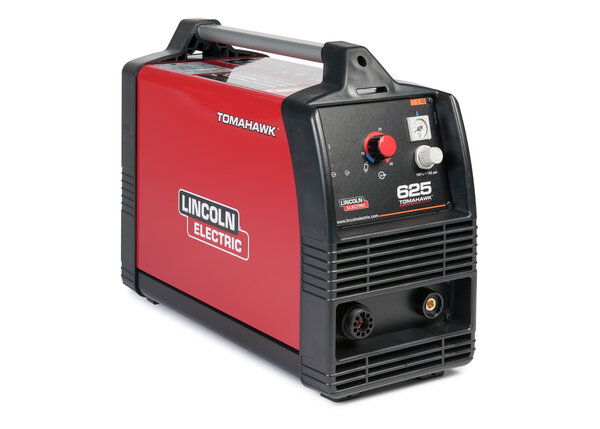 Plasma Cutting - Anywhere, Anytime
Tomahawk 625 plasma cutting systems are portable enough to carry to any jobsite. Hook up the compressed air, grab the torch and start cutting right away. Due to its reliability and portability, this plasma cutter is ideal for onsite maintenance, small construction sites, HVAC and demolition. 
Features
strong>Lightweight and Portable – Easily carried by one person.
Continuous Output Control – Focus the arc for different material thickness.
Touch Start System – Reliable plasma arc initiation without high frequency.
Rapid Arc Restrike – Fast cutting through gaps, even expanded metal.
Cool Operation, Long Consumable Life - New electrode and nozzle design helps you save money in the long run.
Added Safety – Our Parts-in-Place system detects correct installation of consumables and torch.
Engine Drive Compatible – Select a Lincoln Electric Ranger® or Vantage® to power your Tomahawk® in remote locations.
What's Included
(1) Tomahawk 625 Plasma Cutter
(1) K2847-1 LC40 Hand Torch 20 ft Cable
(3) KP2843-1 Electrode
(3) KP2843-2 Nozzle 40A
(2) KP2842-4 Swirl Ring
(1) KP2843-5 Retaining Cap (Standard)
(1) KP2843-2 Drag Spacer
(1) Air Regulator and Pressure Gauge
(1) Internal Water Separator
(1) Work Clamp and Cable
(1) Shoulder Strap
(1) Input Power Cord
Service Information
Documentation
Machine Inputs & Outputs
| | |
| --- | --- |
| Phase 1: Input Voltage #1 (Voltage/Phase/Hertz) | 208/230/1/50/60 |
| Phase 1: Rated Output #1A (Current/Voltage/Duty Cycle) | 24A/89.6V/100% |
| Phase 1: Rated Output #1B (Current/Voltage/Duty Cycle) | 29A/91.8V/60% |
| Phase 1: Rated Output #1C (Current/Voltage/Duty Cycle) | 40A/91.8V/35% |
| Phase 1: Input Current at Max Rated Ouput #1 (Current) | 36.8A |
Product Weights & Dimensions
| | |
| --- | --- |
| Dimensions (H x W x D) | 15.2 in x 8.5 in x 18.9 in (385 mm x 215 mm x 480 mm) |
| Net Weight | 34 lbs (15.42 kg) |
Machines
Machines Processes
Plasma Gouging
Plasma Cutting
Max Rating
40A
Plasma Machines
| | |
| --- | --- |
| Torch Included | Yes |
| Gas Supply | Air or Nitrogen |
| Gas Pressure Required | 80 - 110 psi (6 -7.5 Bar) |
| Recommended Cutting Capacity (Mild Steel) (In/ft) | 1/2 in @ 20 ipm |
| Recommended Cutting Capacity (Mild Steel) (mm/M) | 12.7 mm. @ .51 m/min |
| Maximum Cutting Thickness (Mild Steel) (ln/Ft) | 5/8 in @ 12 ipm |
| Maximum Cutting Thickness (Mild Steel) (mm/M) | 15.9 mm. @ .30 m/min |
| Maximum Severance (Mild Steel) (In/Ft) | 3/4 in @ 5 ipm |
| Maximum Severance (Mild Steel) (mm/M) | 19.1 mm. @ .13 m/min |
Application
Typical Application
Construction
Automotive
General Fabrication
Marine Fabrication & Repair
Structural Fabrication
Warranty
| | |
| --- | --- |
| Warranty | 3 Year on Machine, 1 Year on Torch ( Two Year Extended Warranty available in the U.S.A. and Canada) |