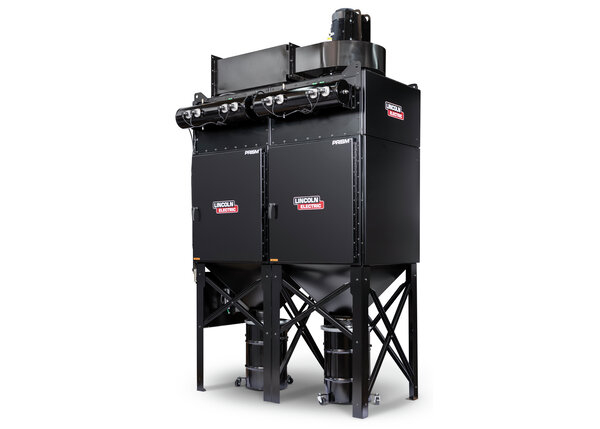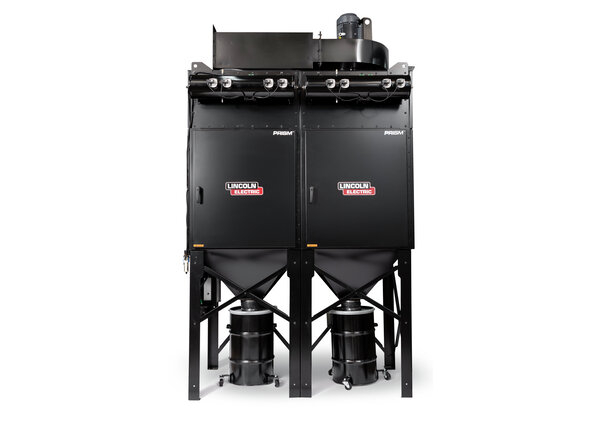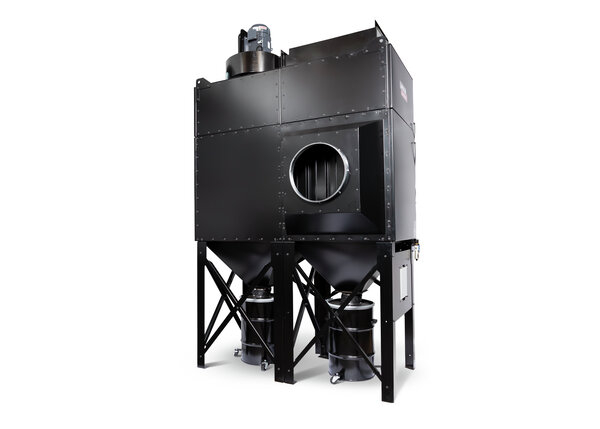 FUME EXTRACTION SYSTEM
The Prism fume extraction system is a reduced-footprint fan/filtration unit combination designed with robotic welding and plasma cutting systems in mind. The 4 bank vertically positioned filter configuration can provide extraction capacity for any automated system equipped with a hood or can connect easily to plasma cutting tables. The vertical positioning enhances the effectiveness of the uniform; high-energy pulses of compressed air** released during the filter cleaning cycle.
Small Footprint
The small footprint takes up less floor space than competitive units
Automatic Cleaning
System will automatically start cleaning process once pre-set pressure differential is reached

Vertical filter orientation allows for more efficient cleaning

Particulates will be collected into the 30 gallon dust bin
Quick and Simple Installation
Shipped in three pieces over two pallets

Locate and secure base module to floor

Fasten upper filter module with pre-installed fan on leg base assembly and secure

Lincoln Smart Connect™ technology allows for quick and seamless wire connectivity

Position silencer and dust bin

Connect power; compressed air and duct sensor for fan speed control
Quiet Operation
Silencer on exhaust fan drastically reduces airflow noise

Intelligent Fan Control Technology
Equipped with variable speed drive that adjusts extraction airflow to application

Variable speed drive regulates fan speed based on filter loading to maximize fume extraction; conserve energy and extend equipment life
**Customer supplied. Must be clean; dry; and oil free.
Features
Small Footprint
Automatic Filter Cleaning
Quick and Simple Installation
Quiet Operation
Intelligent Fan Control Technology
What's Included
Filtration Unit Dust collection Bin Exhaust Fan Stand Control Package Exhaust Silencer
Service Information