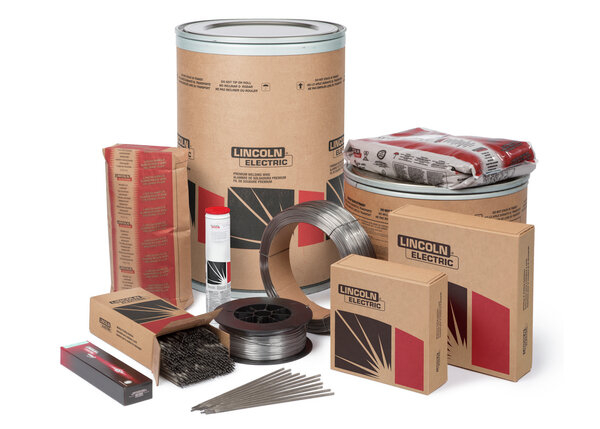 Diameters / Packaging
| Diameters | 600lb Speed-Feed® Drum |
| --- | --- |
| 1/8 | ED018551 |
Ideal for building up on carbon and low alloy steels. Use as an underbase for carbon steel parts prior to hardfacing. Great compressive strength under heavy loading. Deposits are generally crack free, machinable and can be flame cut. Deposit thickness is unlimited. Used in Metal-to-Metal wear applications, works best in non-lubricated rolling or sliding.
Features
Metal-cored wire, provides a softer "as-welded" deposit than Lincore® 420
More resistance to softening during tempering above 482°C (900°F)
Works well with Lincolnweld® 802
Designed for rebuilding parts used in applications involving non-lubricated rolling or sliding.
Typical Applications
Brake, Crane, Drive
Drum, Extrusion, Kiln
Mine Car, Power Generation, Rail
Roll, Shovel, Tractor, Wheel
Welding Positions
BEFORE USE, READ AND UNDERSTAND THE SAFETY DATA SHEET (SDS) FOR THIS PRODUCT AND SPECIFIC INFORMATION PRINTED ON THE PRODUCT CONTAINER. SDS Search page
See test result disclaimer
| Flux | Classification | Hardness Rockwell C |
| --- | --- | --- |
| Lincolnweld® 802® | Typical Result | 41-47 |
| Flux | Classification | %C | %Cr | %Mn | %Mo | %Ni | %Si | %V |
| --- | --- | --- | --- | --- | --- | --- | --- | --- |
| Lincolnweld® 802® | Typical Result | 0.15 | 11.5 | 1.2 | 1.0 | 2.0 | 0.4 | 0.15 |
TYPICAL OPERATING PROCEDURES
Diameter
Polarity
Wire Feed Speed
m/min (in/min)
Voltage
volts
Approx. Current
amps
1/8 in (3.2 mm)
DC+
1.5 (60)
26
350
1/8 in (3.2 mm)
DC+
2.5 (100)
28
500
1/8 in (3.2 mm)
DC+
3.6 (140)
30
610