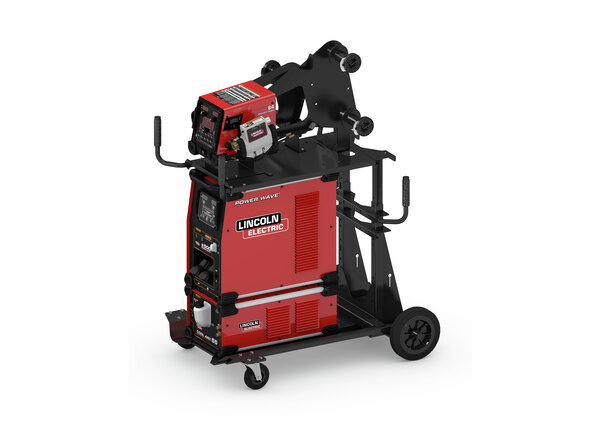 Revolutionize your welding productivity with HyperFill - an innovative twin-wire MIG solution that takes your high deposition welding to the next level. With the HyperFill Dual-Feeder Ready-Pak, you will have everything you need to run the HyperFill process and an additional single wire process all on one machine and all in one convenient part number.
Features
Pre-assembled plug and play package designed to get you up and running within minutes
Dual Process ready - Run HyperFill and a single wire process on the same system
CheckPoint ® production monitoring technology easily tracks essential welding and system data
Solution Requirements » HyperFill® is a patented and licensed twin-wire MIG solution that is designed to perform specifically with select Lincoln Electric welding wire. The solution requires a licensed waveform which may require an additional purchase. For more details, reference document MC20-106.
What's Included
Power Wave® S500 (K2904-1) • Power Feed® 84 Dual Wire Feeder (K3330-3) • Cool Arc® 55S Water Cooler (K3086-2)(1) • Magnum® PRO Water Cooled 500A Gun (K4522-2-10-564) • 7 ft. Water Hose Kit (K4544-7) • HyperFill Dual Reel Cart Kit (K4630-1) • 4-Ball Inlet Guide (K1551-2) • HyperFill .035-.040 (0.9-1.0 mm) Drive Roll Kit (KP4388-1) • HyperFill Diffuser (KP4481-1) • HyperFill .035 Contact Tip (KP4482-035) • 1/8 in. Recess Nozzle (KP4523-1-75R) • 15 ft.
5/64 in. Liner (KP44-564-15) • Standard Duty Wire Reel Stand (K3342-1) • Magnum® PRO Curve™ 300A Gun (K2951-2-10-45) • Standard .040-045 (1.0-1.1 mm) Drive Roll Kit (KP1505-045S) • Work Lead Package (K2149-1) • Electrode Cable (K1842-10) • ArcLink® Cable (K1543-8) • Inverter and Wire Feeder Cart (K3059-4) • Gas Y Fitting (KP4773-1) • Harris Flowmeter Kit (3100211)
Service Information
Documentation
Machines
Machines Processes
Stick (SMAW)
Gouging (CAC-A)
Flux-Cored (FCAW)
TIG (GTAW)
MIG (GMAW)
Pulsed MIG (GMAW-P)
Flux-Cored Self-Shielded (FCAW-SS)
Flux-Cored Gas-Shielded (FCAW-G)
Orbital TIG
Orbital MIG
HyperFill
Metal-cored Wire (GMAW-C)
Maximum Electrode Size
x
Minimum Electrode Size
x
Number of Operators per Machine
1
Data Technologies
Ethernet
Machines Communication Technology
ArcLink
Wire Feeder Supply Voltage
40VDC
Amphenol Pins (type of connector)
5
Work Lead Connector Type
Lug
Spool Gun Compatible (Duty)
Heavy
Wire and TIG Feeders
| | |
| --- | --- |
| Number of driven rolls | 4 rolls |
| Feeder type | Bench |
| Configuration | Dual |
| Max spool diameter | 60lb |
| Communication Technology | ArcLink |
| UI type | Meters |
| Max Rated Output Capable | 500A |
| Max WFS | 1200IPM |
| Feedhead Configuration | Dual |
| Wire Configuration | Hyperfill |
| Power Source to Feeder Communication Connector Type | 5-pin |
| Accesories Communication Connector Type | 12-pin |
| Gun Bushing | Tweco #2-#4 |
| Wire Feed Speed Range (IPM) | 500-1100 |
| Max Spool Size (lbs) | 60 |
| Max Spool Size (kg) | 30 |
| MIG-WireFeeders | Yes |
| MIGPulse-WireFeeders | Yes |
| Contact Tips Included | Yes |
Basic Specification
| | |
| --- | --- |
| Input Current | 3PH/40% - 80/73/41/37/29A,3PH/100% - 60/54/30/27/21A |
| Input Hertz | 50,50/60,60 |
| Input Power | 208/230/380/415/460/575/3/50/60 |
| Input Phase | 3 |
| Mode Icon | CC/CV |
| Output Range | 5-550A DC |
| Polarity | DC |
| Rated Output | 550A/41.5/40% |
Application
Typical Application
Construction
Mining
Railroad Maintenance
Armor Plate (Military)
Automotive
Construction & Field Erection
Elevated Temperature Piping
Gasification Plants
General Fabrication
Heat Exchangers
Heavy Equipment
Heavy Fabrication
High Pressure Piping
High Temperature
High-strength Pipe
LPG & LNG Storage Vessels
Marine Applications
Marine Fabrication & Repair
NACE Applications
Offshore
Oil & Gas
Petrochemical
Petrochemical Industry
Petroleum Processing
Pharmaceutical Equipment
Pipeline & Offshore
Piping
Power Generation
Power Plants
Pressure Vessels
Process Piping
Railcar Fabrication
Railing Industry
Robotics/ Hard Automation
Shipbuilding
Structural Fabrication
Structural Welding