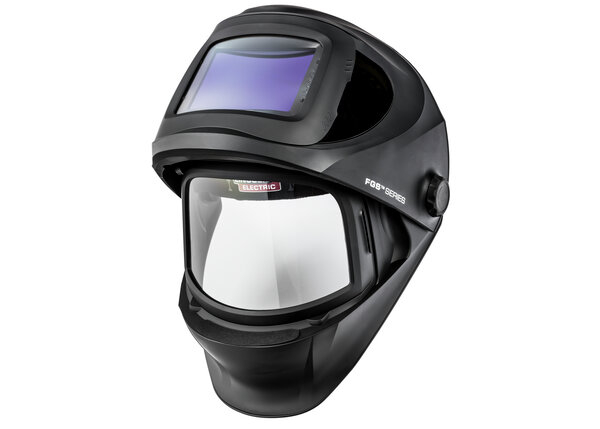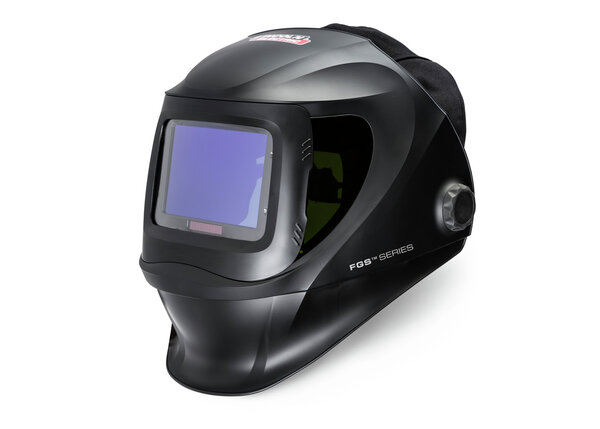 The single helmet solution.
In any fabrication environment, productivity, safety and optic clarity are important. Our most technologically advanced helmet series incorporates a « flip-up » clear face shield with anti-fog coating for increased safety and productivity
Feature.Products.PDP.DetailsMain.Features
4C® Lens Technology provides an unparalleled view of the arc, puddle and base material while reducing eye strain
Perfect 1/1/1/1 Optical Clarity eliminates distortion and blurriness while maintaining shade consistency and improving angle performance
8 064,5 mm2 Auto-Darkening Display offers a widescreen process view to broaden field of view and enhance operator control
Shade 5 Side Windows increases peripheral vision in the closed helmet position
Flame Retardant Head Covering provides protection from spatter and improves comfort
Large Integrated Grinding Shield protects operators from impacts while providing a clear viewing area for grinding and material inspection
Anti-Fog Coating helps maintain a consistently clear view
4 Axis Headgear provides multi-directional adjustments to evenly distribute weight and improve comfort
Service Information
What's Included
Helmet bag

Bandana

5 outside cover lenses

2 inside cover lenses and sticker sheet.
Documentation
Welding Helmets
| | |
| --- | --- |
| Welding Helmets Product Types | Auto-Darkening |
| Welding Helmets Product Series | FGS Series |
| Welding Helmets Shell Type | Black |
| Welding Helmets ADF Viewing Area | 75 mm x 108 mm |
| Welding Helmets Control Type | Digital |
| Welding Helmets Weight | 794g |
| Welding Helmets Auto Darkening | Yes |
| Welding Helmets Cheater Lens Compatible | Yes |
| Welding Helmets Cut Mode | Yes |
| Welding Helmets Flip Up Lens | Yes |
| Welding Helmets Grind Mode | Yes |
| Welding Helmets Hard Hat Capable | No |
| Welding Helmets Lens Shade Rating | 5-13 |
| Welding Helmets Light to Dark Switch Time | 1/25,000 Sec. |
| Welding Helmets Magnifying Lens Holder | Yes |
| Welding Helmets Number of Sensors | 4 |
| Welding Helmets Power Supply | 2 CR2450 Replaceable Batteries |
| Welding Helmets Quick Adjust Ratchet | Yes |
| Welding Helmets TIG Rating | 2A AC/DC |
| Welding Helmets Welding Shade | Yes |
Replacement Parts
Cover Lenses
KP3700-1 Outside Cover Lens
KP3701-1 Inside Cover Lens
KP3702-1 Grind Shield Clear lens
KP3705-1 Side Lens Cover
9SS32652-10 Front lens holder
9SS32652-3 Grind Shield lens holder
Sweatband & Headgear
KP2930-1 Sweatband - Super Soft Knit Cotton - 2/pk
KP3709-1 Head cover
KP3706-1 Headgear
Cheater Lenses
KP3046-100 Magnifying Cheater Lenses - 1.00 MAG
KP3046-125 Magnifying Cheater Lenses - 1.25 MAG
KP3046-150 Magnifying Cheater Lenses - 1.50 MAG
KP3046-175 Magnifying Cheater Lenses - 1.78 MAG
KP3046-200 Magnifying Cheater Lenses - 2.00 MAG
KP3046-225 Magnifying Cheater Lenses - 2.25 MAG
KP3046-250 Magnifying Cheater Lenses - 2.50 MAG
Auto-Darkening Filter & Parts
KP3703-3 ADF Cartridge
Replacement Shells
KP3704-1 Replacement Shell