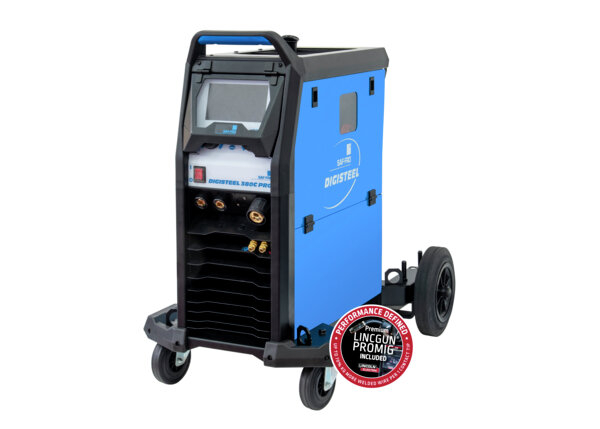 The DIGISTEEL COMPACTS RANGE is built on the latest Lincoln inverter platform, ensuring optimal MIG/MAG and MMA welding performance with excellent power and cost efficiency. The range consists of: 250A, 320A, 380A and 450A power sources with a choice of either the C panel (250C & 320C) or the C PRO panel (250C PRO, 320C PRO, 380C PRO & 450C PRO), that meet most customers' needs and covers a wide range of welding applications. From now on all newly manufactured Digisteel Compact machines are equipped with Lincoln Electric Premium MIG guns LINCGUN® PROMIG™ and offered as READY-PACKS.
Features
Premium arc performance with repeatable arc ignition, excellent arc stabillity and rapid parameter adjustment.
MIG/MAG and STICK process.
Innovative, intuitive interface: easy settings, simple navigation, multi-language.
Perfect feedability: optimized wire positioning, four driven rolls and inspection window.
Designed with welders for welders: perfect handling, innovative and easy communication.
Ready for the heaviest industrial conditions
Fully featured Synergic and Manual MIG, Auto settings, adjustable functions, Memory, TFT 7' color screen, USB connectivity.
Service Information
What's Included
LINCGUN® PROMIG™ 300 (4m)

Input cable (5m)

Ground cable (3m)

Gas hose (2m)

Drive roll for solid wire 1.0-1.2mm

USB with Operator's Manual
Documentation
Weights & Dimensions
| | |
| --- | --- |
| Dimensions (H x W x D) | 878.3 mm x 560 mm x 934.7 mm |
| Net Weight | 70 kg |
Features
Machines Processes
Stick (SMAW)
Flux-Cored (FCAW)
MIG (GMAW)
Flux-Cored Self-Shielded (FCAW-S)
Flux-Cored Gas-Shielded (FCAW-G)
Metal-cored Wire (GMAW-C)
Max Rating
380A
Open Circuit Voltage
54V
Number of Operators per Machine
1
Data Technologies
Data Export Capable
USB
Machines Communication Technology
digital
Wire Feeder Supply Voltage
40VDC
Work Lead Connector Type
Dinse
Technical Specifications
| | |
| --- | --- |
| Input Voltage | 400V |
| Input Current | 25A |
| Input Hertz | 50/60 Hz |
| Input Power | 400V/3/50-60 Hz (±15%) |
| Input Phase | 3 Ph |
| Mode Icon | CC/CV |
| Output Range | 10-380A |
| Polarity | DC |
| Rated Output | 380A@40%, 320A@60%, 240A@100% |
Application
Typical Application
Construction
General Fabrication
Heavy Equipment
Heavy Fabrication
Maintenance & Repair
Power Generation
Railcar Fabrication
Railing Industry
Shipbuilding
Structural Fabrication
Structural Welding