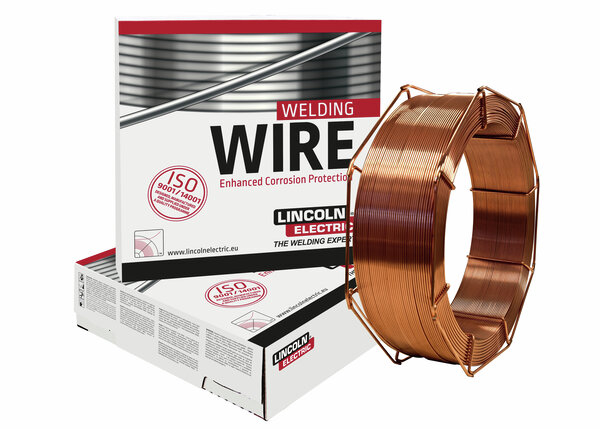 Diameters / Packaging
| Diameters | 25 KG SPOOL | 100KG SPOOL | 300KG DRUM | 300KG REEL | 350KG DRUM | 400KG DRUM | 600KG DRUM | 1000KG COIL | 1000KG DRUM |
| --- | --- | --- | --- | --- | --- | --- | --- | --- | --- |
| 2.0 mm | LNS140A-2-25VCI | | | LNS140A-2-300 | LNS140A-2-350,107036 | | LNS140A-2-600AC | | |
| 2.4 mm | LNS140A-24-25VCI | | | | | LNS140A-24-400 | | | |
| 3.2 mm | LNS140A-32-25VCI | LNS140A-32-100 | | | 105407 | LNS140A-32-400 | LNS140A-32-600SF | LNS140A-32-1T | LNS140A-32-1000 |
| 4.0 mm | LNS140A-4-25VCI | LNS140A-4-100 | | | 105346,105414 | LNS140A-4-400 | LNS140A-4-600SF | LNS140A-4-1T | LNS140A-4-1000 |
| 4.8 mm | LNS140A-48-25VCI | LNS140A-48-100 | LNS140A-48-300 | | | | LNS140A-48-600SF | LNS140A-48-1T | |
LNS140A is a coppered SAW wire for welding of the majority of the most common unalloyed steel grades in 2 run technique with P223, 995N or 998N. It can also be used for multi-run technique for higher strength properties.
Features
A low carbon, medium manganese, low silicon, 0,5% molybdenum wire used for single or multiple pass welds
A standard choice for pipe fabrication and other limited pass applications
Actual (Type 3.1) certificates for each lot of wire showing chemical composition are available
Typical Applications
To be used on steel grades such as 16Mo3 or mild steels to improve impact properties when welding in the two run technique.
Service Information
Documentation