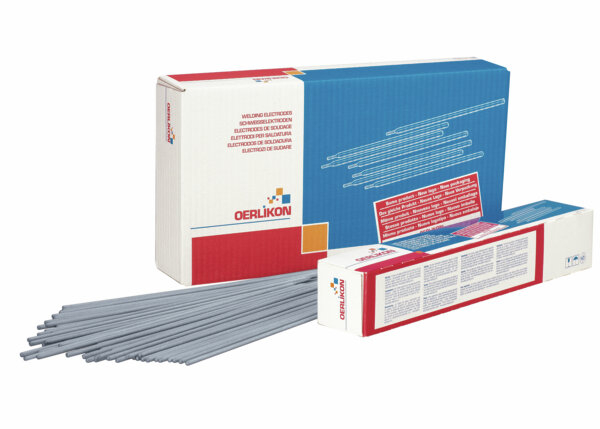 Diameters / Packaging
| Diameters | CBOH 1.9 KG (Approx. 65 PCS) | CBOH 2.1 KG (Approx. 120 PCS) | CBOX 4.6 KG (Approx. 260 PCS) | CBOX 4.7 KG (Approx. 105 PCS) | CBOX 4.7 KG (Approx. 160 PCS) | CBOX 4.97 KG (Approx. 170 PCS) |
| --- | --- | --- | --- | --- | --- | --- |
| 2.5x350 mm | | W000258806 | W000258218 | | | |
| 3.2x350 mm | W000258807 | | | | W000258219 | W000403243 |
| 4.0x350 mm | | | | W000258220 | | |
OVERCORD Z is a medium-thick rutile-cellulosic general purpose MMA electrode, suitable for structural steelwork, workshop and maintenance welding in all positions.
Features
Good gap bridging, easy striking and restriking.
The slag is generally self-releasing, the weld beads are smooth and slightly concave, blending into the base plate without undercut
Used for welding galvanised steels, there is a tolerance to impurities in the welding zone.
Welding Positions