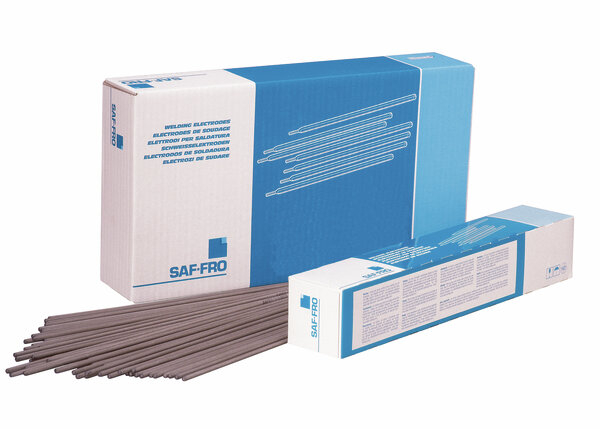 Diameters / Packaging
| Diameters | CBOH 1.6 KG (Approx. 240 PCS) | CBOH 1.8 KG (Approx. 65 PCS) | CBOH 1.9 KG (Approx. 160 PCS) | CBOH 2.1 KG (Approx. 120 PCS) | CBOX 4.4 KG (Approx. 160 PCS) | CBOX 4.5 KG (Approx. 105 PCS) | CBOX 4.5 KG (Approx. 260 PCS) | CBOX 5.6 KG (Approx. 160 PCS) | CBOX 5.8KG (Approx. 105 PCS) | CBOX 6.1 KG (Approx. 67 PCS) |
| --- | --- | --- | --- | --- | --- | --- | --- | --- | --- | --- |
| 1.6x300 mm | W000384783 | | | | | | | | | |
| 2.0x350 mm | | | W000384858 | | | | | | | |
| 2.5x350 mm | | | | W000384661 | | | W000258557 | | | |
| 3.2x350 mm | | W000384660 | | | W000258558 | | | | | |
| 3.2x450 mm | | | | | | | | W000258559 | | |
| 4.0x350 mm | | | | | | W000258560 | | | | |
| 4.0x450 mm | | | | | | | | | W000258561 | |
| 5.0x450 mm | | | | | | | | | | W000384782 |
SAFER G 48N is a rutile-cellulosic coated MMA electrode for all positions welding. Easy to use and tolerant of dirty or poorly prepared base plates.
Features
Easy to use even for fillet weld in vertical down position
Flat or slightly convex beads and easy slag removal
Working on poorly prepared pieces, pipes, tubes, etc.
Welding Positions
Service Information
Documentation