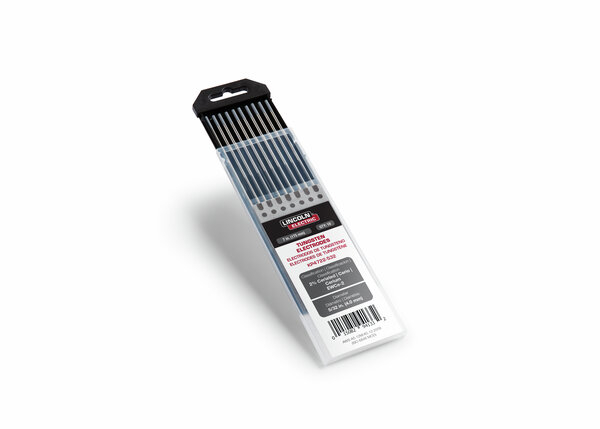 "
PERFORMANCE
The Lincoln Electric 2% Ceriated (Grey) Premium Tungsten Electrodes offer excellent arc starts and stability, particularly on DC current, while also reducing oxide build up. The engineered 2% Lanthanated composition is recommended for low to medium amperage applications and is recommend for DC procedures but can be used with an AC current if desired.
AVAILABLE IN 6 DIAMETERS
Using the approriate size of tungsten is essential for optimal performance and efficency.
.020""
.040""
1/16""
3/32""
1/8""
5/32""
"
Features
2% Ceriated (EWCe-2 / Grey) tungsten is ideal for low to medium amperage applications which use a DC current but can also be used with AC currents
Premium and consistent composition for excellent arc starts and stabilty
"5/32"" electrode diameter should used with amperages between 330 - 480 A"
Premium composition reduces oxide creation on tip, resulting in less time grinding, to improve productivity and reduce inefficent usage
"Also available in .020"", .040"", 3/32"", 1/16""and 1/8"" electrode diameters"
Tungsten
| | |
| --- | --- |
| Tungsten Type | 2% Ceriated |
| Tungsten Diameter (in) | 5/32 |
Warranty
| | |
| --- | --- |
| Warranty | 30 Days - Expendable Parts - Lincoln is not responsible for the replacement of any expendable part that is required due to normal wear. |