Lincoln Electric Announces up to $10K Sign-On Bonus for Qualified, Experienced New Hires
Filling multiple positions in Euclid and Mentor, Ohio, locations for all skill levels with competitive wages and benefits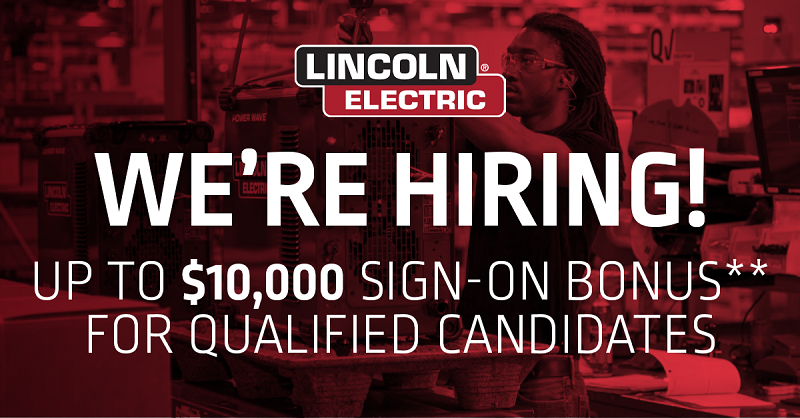 Cleveland, OH – If you're looking for something new career-wise, Lincoln Electric is actively seeking the best to join its team, from entry level roles to skilled trades. The global leader in arc welding is offering not only competitive wages and an opportunity for a large, year-end bonus but also a sign-on bonus of up to $10,000** for qualified and experienced candidates. The sign-on bonus kicked off on Sept. 1.
With more than 125 years of proven expertise and innovation, Lincoln Electric is an ethical, worker-focused employer. The company has not resorted to making layoffs for many years, even in tough times, including the 2009 recession and the COVID-19 pandemic.
Lincoln Electric employees receive competitive compensation and benefits, including:
Advancement and training opportunities
Profit-sharing program
Medical, dental and vision benefits
401(k) matching program
They also are eligible for an annual bonus, given at the end of each calendar year to reward hard work and commitment. In 2019, the average employee bonus for the company's Euclid and Mentor facilities was $22,980 before taxes and benefit deductions. The average full-time production employee's total compensation is more than $73,000*.
Lincoln Electric is an equal opportunity employer. All qualified applicants will receive consideration for employment without regard to race, color, religion, sex, sexual orientation, gender identity, genetic information, national origin, protected veteran status, disability status or any other characteristic protected by law.
* Amount is prior to taxes and benefit deductions. **Terms and conditions apply. See websites listed below for details.
Effective September 1, 2021. This program may be discontinued at any time.
For more information on general production positions visit: www.LincolnElectric.com/Jobs. For information about skill trades, visit www.LincolnElectric.com/Skilled.
Pkg. #853
# # #
About Lincoln Electric
Lincoln Electric is the world leader in the design, development and manufacture of arc welding products, automated joining, assembly and cutting systems, plasma and oxy-fuel cutting equipment and has a leading global position in brazing and soldering alloys. Headquartered in Cleveland, Ohio, Lincoln has 55 manufacturing locations in 18 countries and a worldwide network of distributors and sales offices covering more than 160 countries. For more information about Lincoln Electric and its products and services, visit the Company's website at https://www.lincolnelectric.com.
---