Lincoln Electric Introduces the New Frontier® 400X Pipe Model to the Frontier Lineup
Next-Gen Diesel Engine Driven Welder / Generator delivers the 'do-it-all' machine for pipeline welding.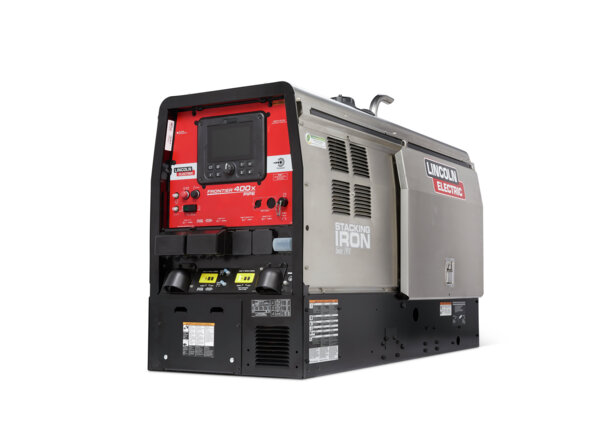 Cleveland, OH- Lincoln Electric's introduces the all-new Frontier 400X Pipe to its lineup of next-generation diesel engine driven welders / generators. Designed to be the ultimate go-to welder for the pipeline industry, the Frontier 400X Pipe breaks the boundaries of pipeline welding by combining the latest technology and innovation with the iconic arc performance of our legacy machines.
Powered by a 24.7 HP, turbocharged Perkins® diesel engine, the Frontier 400X Pipe delivers plenty of reliable, all-day power with 400 Amps of welding output to handle high amperage applications, and 11kW of 1/3 phase auxiliary power to keep you running at the jobsite, or the campsite. The machine features an industry-leading, impact-resistant digital user interface that allows for unmatched machine control and simplicity, along with the additional benefits of saving weld mode memories, maintenance reminders, productivity metrics, and optional PIN authorization.
Packed with optimized weld modes specifically for pipeline welding, the Frontier 400X delivers the new benchmark in performance with tailored SMAW weld modes, pulsed TIG, and specialized weld modes to support mechanized and pulsed GMAW applications.
To further improve the pipeline weld performance of the Frontier 400X Pipe, the machine also includes a dedicated pipe mode designed specifically for downhill pipe welding - delivering the classic DC-style arc that pipeliner's have grown to love in Lincoln Electric's legacy machines. To help fine-tune the arc performance, the machine also includes Lincoln Electric's new DigFX™ Technology – allowing operators to easily dial-in the ideal arc for their pipeline application.
To round it out, the Frontier 400x features the latest, operator-focused technology, such as the CrossLinc® Technology for superior at-the-arc welding control while reducing cable clutter on the job site, along with Auto-Stop/Start Technology to help reduce excessive idling and engine wear while increasing fuel savings.
"To learn more, visit https://promotions.lincolnelectric.com/frontier/
About Lincoln Electric
Lincoln Electric is the world leader in the engineering, design, and manufacturing of advanced arc welding solutions, automated joining, assembly and cutting systems, plasma and oxy-fuel cutting equipment, and has a leading global position in brazing and soldering alloys. Lincoln is recognized as the Welding Expert™ for its leading material science, software development, automation engineering, and application expertise, which advance customers' fabrication capabilities to help them build a better world. Headquartered in Cleveland, Ohio, Lincoln has 56 manufacturing locations in 19 countries and a worldwide network of distributors and sales offices serving customers in over 160 countries. For more information about Lincoln Electric and its products and services, visit the Company's website at https://www.lincolnelectric.com.