Lincoln Electric Opens Registration for September 2022 Blodgett Weldments Seminar
Earn CEUs and advance knowledge of codes, materials, techniques and challenges during week-long program at The Welding Technology & Training Center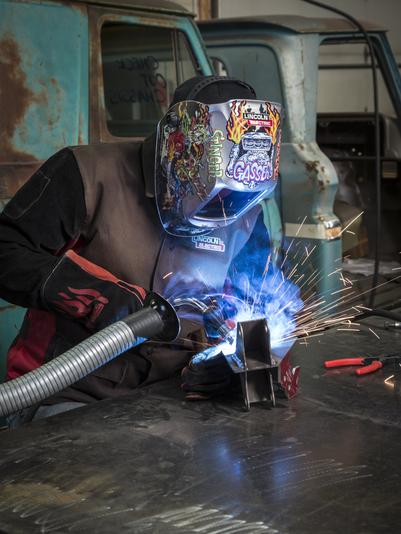 Welding in automotive manufacturing and restoration requires highly skilled welders to perform various welds to ensure safety and reliability.
Lincoln Electric Opens Registration for September 2022 Blodgett Weldments Seminar
Earn CEUs and advance knowledge of codes, materials, techniques and challenges during week-long program at The Welding Technology & Training Center
(Cleveland, June 29, 2022) – Manufacturing and welding engineers should mark their calendars for Lincoln Electric's popular Blodgett Seminar, Design of Weldment Connections: Steel Weldments. The company will hold its in-person seminar Sept. 12-16 at The Welding Technology & Training Center at its Cleveland headquarters.
Lincoln Electric's Blodgett weldment seminar offers 36 hours of coursework across a full week of training, providing 3.6 CEUs for individuals who design equipment used for construction, agriculture, material handling and other general purposes. The seminar focuses on AWS D14 standards and connections subject to static, cyclic and shock loading. The program will have a concentrated emphasis on fatigue.
Seminar classes include such topics as Weld Process Basics, Welding Metallurgy and Cracking, Basics of Welded Connections, Design of Fatigue-Resistant Welded Connections, Principles of Connection Design and Distortion: Causes and Cures, in addition to other key topics. Participants will also enjoy hands-on welding opportunities and demonstrations and tours of Lincoln Electric, showcasing the latest in welding technology.
For more than 60 years, Lincoln Electric has hosted Blodgett design seminars that provide attendees with relevant and actionable ideas of how to make welded products more dependable, lower in cost and welded safely. Thousands of engineers have attended these seminars, made popular by their namesake, Dr. Omer W. Blodgett, a retired Lincoln Electric engineer, lecturer and educator.
Blodgett, a renowned world authority on the design of welded connections, was influential in developing national standards for the American Welding Society code. He authored both Design of Welded Structures and Design of Weldments. These books, originally published more than 55 years ago, are considered the foundation for the entire design of welded connections.
"These seminars are one of a kind," says Lincoln Electric Senior Structural Engineer Curt Decker. "Lincoln Electric is the world's expert in welding with more than 100 years of experience. You can't get this depth of training with such a long history anywhere else."
Registration is open for the Sept. 12-16 seminar. The $900 seminar fee includes the seminar sessions, lunches, an evening dining event and daily hotel shuttle. For more information, visit https://www.lincolnelectric.com/en/Education/Blodgett-Seminars or email weldtraining@lincolnelectric.com.
Media contact:
Ella Schuellerman – eschuellerman@fallsandco.com
About Lincoln Electric
Lincoln Electric is the world leader in the engineering, design, and manufacturing of advanced arc welding solutions, automated joining, assembly and cutting systems, plasma and oxy-fuel cutting equipment, and has a leading global position in brazing and soldering alloys. Lincoln is recognized as the Welding Expert™ for its leading material science, software development, automation engineering, and application expertise, which advance customers' fabrication capabilities to help them build a better world. Headquartered in Cleveland, Ohio, Lincoln has 56 manufacturing locations in 19 countries and a worldwide network of distributors and sales offices serving customers in over 160 countries. For more information about Lincoln Electric and its products and services, visit the Company's website at https://www.lincolnelectric.com.