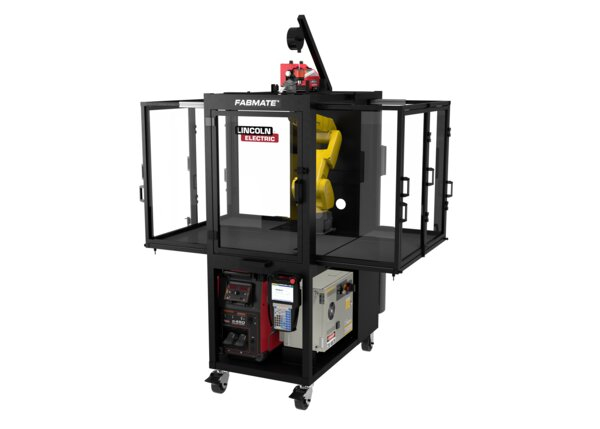 Get up to speed fast with this ready-made, pre-configured robotic solution designed to help you position your staff and your operation for higher throughput and profit growth.
Features
Custom Lettering Program. Pre-programmed with easy-to-use, high-quality lettering.
Thru-Arc Seam Tracking automatically adjusts the robot's vertical and lateral trajectory to compensate for part warping or misplacement.
Touch Sensing uses the welding electrode, nozzle or other sensing pointer to make automatic adjustments to the entire weld path before arc start.
Fume Extraction Hood and System. Specialized Extraction Hoods for automation and robotic welding support air quality in advanced welding applications.
Single Point Power Disconnect Panel.
What's Included
Exclusive use of FANUC® robots Power Wave® R450 power source AutoDrive® 4R220 wire feeder Magnum PRO® robotic torch Integrated safety measures in system and software Robotic 3-in-1 welding fixture Robotic welding project-based lesson Basic robotic programming class
Service Information
Global Attributes
| | |
| --- | --- |
| System Type | Fixed Table |
| Axes for Part Rotation | 0 |
| Number of Work Zones | 1 |
| Industry/Application | General Industry |
| Overall Footprint Width in (mm) | 69 (1753) |
| Overall Footprint Depth in (mm) | 71 (1804) |
| Sweep in (mm) | N/A |
| Span in (mm) | N/A |
| Fixed Table Work Envelope in (mm) | 20 x 63 Extended (508x1600) |
| Turntable Diameter in (mm) | N/A |
| Payload Per Zone lb (kg) | N/A |
| Assembly Required | No |
| Panel Type | Wire Mesh/Curtain |
| Crane Access | No |
| Roll Up Door | No |
| Pushbutton Control | No |
| HMI Control | No |
| Power Distribution | Yes |
| Robot Programming Training Included | Yes |
| ANSI/RIA Compliant | Yes |
| Sensor Protected Work Zones | No |
| Sensor Interlocked Access Points | Yes |
| Fume Extraction Equipment | Optional |
| Multi-Robot Configurations | No |
| Crown Mounted Robot | No |
| Robotic Torch Cleaning Station | No |
| Weld Gas Distribution Station | No |
| Weld Gas Flow Monitor | No |
| Pneumatic Distribution Station | No |
| Zero Friction Wire Delivery | No |
| Wire Detect Sensors | No |
| Customization Available | No |