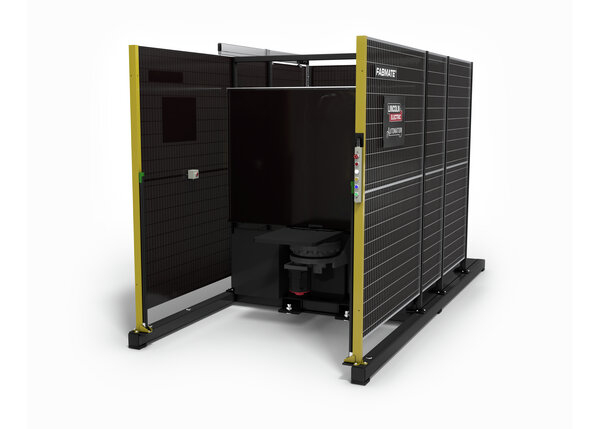 The FabMate XFT is an economical robotic solution best suited for parts with fixed horizontal welds where the part does not need to be turned or rotated. The work area surface rotates 180 degrees, providing two work zones so unfinished parts can be added to the work ow at the same time the robot is welding a finished part. This provides operators with opportunities to quickly orientate staff to robotic processes for increased capacity and throughput.
Features
Integrated safety measures in system and software.
Everything you need to start welding robotically.
Lower investment.
Quick delivery and setup time.
Palletized base with small footprint.
Reliable and consistent production.
What's Included
Exclusive use of FANUC® robots Power Wave® R450 power source AutoDrive® 4R220 wire feeder Magnum® PRO robotic torch
Service Information
Global Attributes
| | |
| --- | --- |
| System Type | Turntable |
| Axes for Part Rotation | 0 |
| Number of Work Zones | 2 |
| Industry/Application | General Industry |
| Overall Footprint Width in (mm) | 170 (4318) |
| Overall Footprint Depth in (mm) | 77 (1956) |
| Turntable Diameter in (mm) | 68 [1750] |
| Payload Per Zone lb (kg) | 771 [350] |
| Assembly Required | No |
| Panel Type | Wire Mesh/Curtain |
| Crane Access | Yes |
| Roll Up Door | No |
| Pushbutton Control | Yes |
| HMI Control | No |
| Power Distribution | Option |
| Robot Programming Training Included | Yes |
| ANSI/RIA Compliant | Yes |
| Sensor Protected Work Zones | Yes |
| Sensor Interlocked Access Points | Yes |
| Flash Barrier Type | Fixed |
| Fume Extraction Equipment | Optional |
| Tooled/Turnkey System | No |
| Multi-Robot Configurations | No |
| Crown Mounted Robot | No |
| Robotic Torch Cleaning Station | Optional |
| Weld Gas Flow Monitor | No |
| Pneumatic Distribution Station | No |
| Zero Friction Wire Delivery | No |
| Wire Detect Sensors | No |
| Customization Available | No |