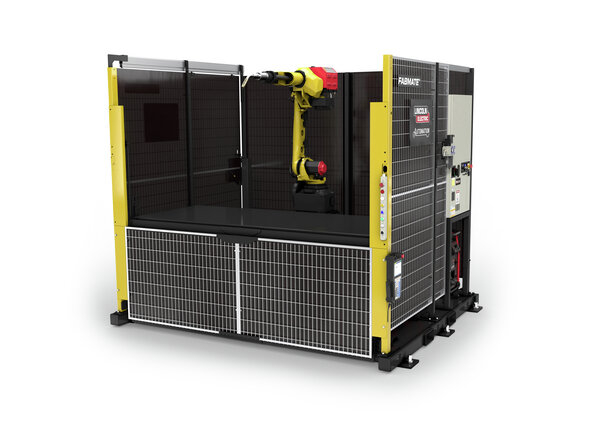 Designed for manufacturers looking for a cost-effective, entry-level robotic solution, the FabMate FT is ideal for welding fixed horizontal welds on medium-sized parts that do not need to be rotated or tilted. Available in a single 87 in. by 36 in. zone or dual 43 in. by 36 in. zones, this product provides enhanced flexibility and weld quality while lowering the cost of re-work and material waste.
Features
Everything you need to start welding robotically.
Lower investment
Quick delivery and setup time.
Palletized base with small footprint.
Reliable and consistent production
Compliant with safety requirements.
What's Included
Exclusive use of FANUC® robots; Power Wave® R450 power source; AutoDrive® 4R220 wire feeder; Magnum® PRO robotic torch
Service Information
Global Attributes
| | |
| --- | --- |
| System Type | Fixed Table |
| Axes for Part Rotation | 0 |
| Number of Work Zones | 1 |
| Industry/Application | General Indsutry |
| Overall Footprint Width in (mm) | 115 (2934) |
| Overall Footprint Depth in (mm) | 89 (2266) |
| Fixed Table Work Envelope in (mm) | 37 x 92 [950 x 2350] |
| Payload Per Zone lb (kg) | 1102 [500] |
| Assembly Required | No |
| Panel Type | Wire Mesh/Curtain |
| Crane Access | Yes |
| Roll Up Door | No |
| Pushbutton Control | Yes |
| HMI Control | No |
| Power Distribution | Option |
| Robot Programming Training Included | Yes |
| ANSI/RIA Compliant | Yes |
| Sensor Protected Work Zones | No |
| Sensor Interlocked Access Points | Yes |
| Flash Barrier Type | Automatic |
| Fume Extraction Equipment | Optional |
| Multi-Robot Configurations | No |
| Crown Mounted Robot | No |
| Robotic Torch Cleaning Station | Optional |
| Weld Gas Distribution Station | No |
| Weld Gas Flow Monitor | No |
| Pneumatic Distribution Station | No |
| Zero Friction Wire Delivery | No |
| Wire Detect Sensors | No |
| Customization Available | No |