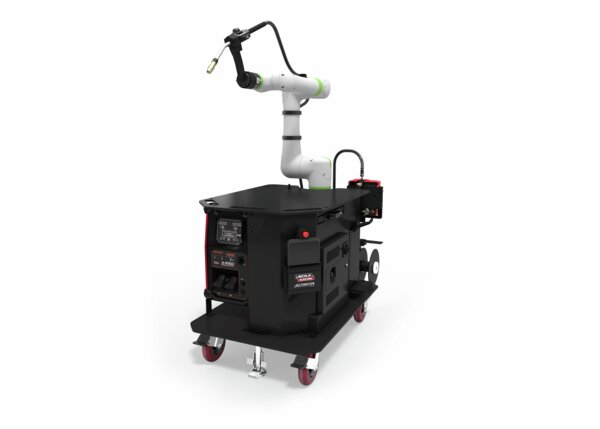 Finding qualified and reliable welders continues to be a challenge in the industrial and manufacturing industries. For many manufacturers, the thought of automation is an daunting concept due to the learning curve often involved with training staff on using a new system. Manufacturers also require mobility, without the static footprint and guarding traditional automation requires. Lincoln Electric is proud to share that we have a new and improved automated solution that enables you to automate even the highest mix of different products, and this solution has been proven to be easily implemented by non-welders. Introducing the new, Fab-Pak Cobot Guru system, an easily programmable robot in the "cobot" family. This cobot can be programmed easily by workforce with zero previous experience with robotics, due to the simplified programming such as being able to teach the cobot arm, literally at the torch. Simply move the cobot's arm with your hand, to the start and finish weld points and the cobot does the rest. The Fab-Pak® Cobot Guru™ robotic welding system is built for the industrial space and has access to all of Lincoln's highest productivity weld programs allowing you to increase your productivity.
Features
INCREASE PRODUCTIVITY – Increase productivity with a collaborative robot system that your operators can work alongside with.
SIMPLIFIED PROGRAMMING – Designed for straightforward, user-friendly operation, thanks to simplified programming.
TEACH AT THE TORCH – Designed for an operator at any level of experience with robotics, the Fab-Pak Cobot Guru allows for teaching at the torch.
FLEXIBLE WORK ZONE – Bring the system to every part. Unlimited welding capability in work zone.
SMALL FOOTPRINT – Mobile, flexible system with small footprint on the shop floor.
What's Included
FANUC CRX 10iA with tablet based TP Integrated pushbutton torch control AutoDrive 4R100 Wire Feeder Power Wave R450 Welder Fixed welding table Heavy duty casters Stabilizing kickstand Utility drawer & tablet tray AVAILABLE UPGRADES Modular table Fume extraction Modular table components CSA approval for Canada JumpStart onsite startup package
Service Information
Global Attributes
| | |
| --- | --- |
| System Type | Collaborative Robot System 10 kg |
| Number of Work Zones | 1 |
| Industry/Application | Heavy Fabrication |
| Overall Footprint Width in (mm) | 60 (1524) |
| Overall Footprint Depth in (mm) | 32 (812) |
| Fixed Table Work Envelope in (mm) | 30 x 20 (762 x 508) |
| Payload Per Zone lb (kg) | 226 (500) |
| Robot Programming Training Included | Yes |
| ANSI/RIA Compliant | Yes |
| Fanuc Compatability | Yes |
| Fume Extraction Equipment | Recommended |
| System Weight lb (kg) | 895 (407) |