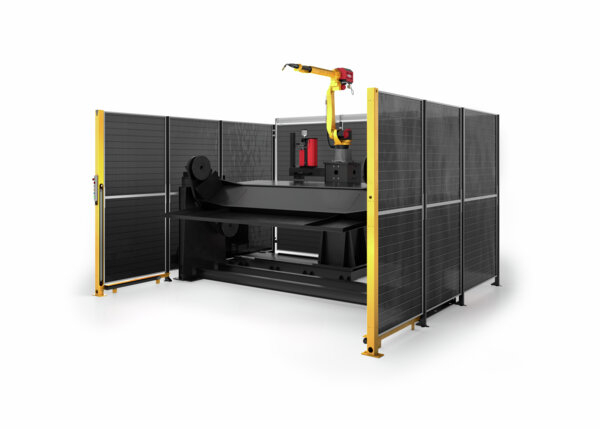 The pre-engineered Fab-Pak® ferris wheel robotic system is an arc welding solution delivered ready-to-weld. The ferris wheel is a two zone system that rotates 180 degrees. It has a single load/unload point. Each zone contains a headstock for easy reorientation of parts and is a great solution for large sized parts.
Features
Dramatically enhance part production by improving productivity, quality and safety.
Two zone system with headstocks in each zone for part reorientation.
Rotate 180 degrees to allow single load/unload access point.
Designed for large sized parts that can be welded using the flexibility of reorientation.
Available in a variety of standard configurations to meet unique manufacturing needs.
What's Included
Power Wave® power source AutoDrive® wire feeder Magnum® PRO robotic torch Ferris Wheel positioner Welding robot Robot basic software package Wire mesh panels with weld curtains Push button control Training (3 days) UPGRADES: Fume extraction hood & system Tooling Additional robot arm Fab-Pak Cell Control Robotic torch cleaning station Solid metal panel walls
Service Information
Global Attributes
| | |
| --- | --- |
| System Type | Ferris Wheel |
| Axes for Part Rotation | 1 |
| Number of Work Zones | 2 |
| Industry/Application | General Industry |
| Overall Footprint Width in (mm) | 3654/4606 |
| Overall Footprint Depth in (mm) | 5686/4906] |
| Sweep in (mm) | 1000-1500 |
| Span in (mm) | 1000-3000 |
| Payload Per Zone lb (kg) | 750-1500 |
| Assembly Required | Yes |
| Panel Type | Wire Mesh/Curtain |
| Crane Access | Yes |
| Roll Up Door | No |
| Pushbutton Control | Yes |
| HMI Control | Option |
| Power Distribution | Option |
| Robot Programming Training Included | Yes |
| ANSI/RIA Compliant | Yes |
| Sensor Protected Work Zones | Yes |
| Sensor Interlocked Access Points | Yes |
| Flash Barrier Type | Fixed |
| Fanuc Compatability | Yes |
| Fume Extraction Equipment | Optional |
| Multi-Robot Configurations | Optional |
| Crown Mounted Robot | No |
| Robotic Torch Cleaning Station | Optional |
| Weld Gas Distribution Station | No |
| Weld Gas Flow Monitor | No |
| Pneumatic Distribution Station | No |
| Zero Friction Wire Delivery | No |
| Wire Detect Sensors | No |
| Customization Available | No |