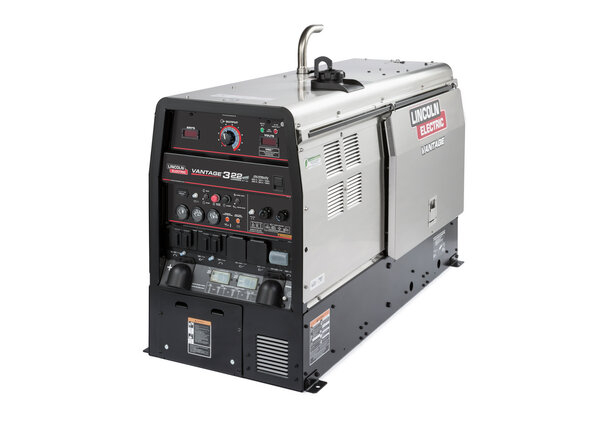 The Vantage® 322 is a versatile welder/generator offering up to 400 amps of welding output and 11 kW of auxiliary power. Featuring a compact design and multi-process welding capabilities, the machine allows operators to handle a wide range of tasks from stick or wire welding to powering jobsite tools. Designed with dependability in mind, the Vantage 322 has field-proven toughness to maintain uptime. The Vantage 322 provides excellent value, which makes the ideal choice for construction teams, pipe rig owners, and rental fleet managers. Purchase one of these machines today!
Features
Compact Versatility – Offers up to 400 amps (IEC rated at 300 amps) of welding current to tackle numerous welding and carbon arc gouging applications. Select one of five basic process modes including CC-Stick, Downhill Pipe, DC Touch Start TIG®, CV-Wire, or Arc Gouging mode, which maximizes output for up to 5/16 in. (8.0 mm) carbon rods.
Generator Output – Provides up to 11 kW of continuous three-phase power to run industrial tools such as plasma cutters, pumps, or inverter welders.
Patented Chopper® Technology – Experience premium arc performance with minimized spatter for stick or pipe welding as well as enhanced gouging performance that prevents the engine from stalling, resulting in smooth material removal.
Reliable Operations – Engineered tough and field proven for ruggedness and durability to meet the most challenging job site needs and harshest environments.
Industrial Diesel Engine – Powered by a 22 hp, naturally aspirated Kubota® diesel engine. Runs smooth and quiet while meeting EPA Tier 4 Final compliance.
Innovative Service Access – Lockable and removable sliding access door to service the engine and internal components, battery drawer on front of machine for quick access, and top-mounted radiator cover provide convenient access to the machine.
Run Longer Between Fill Ups – Features a large 20 US gal. (75.7 L) fuel tank compared to smaller 11 US gal. (41.6 L) tanks in competitive machines
Rent-Ready Package – Product comes in one preassembled package from the factory. Ready-Pak® 3 option includes the welder, trailer, fender and light kit, and cable rack.
Product Weights & Dimensions
| | |
| --- | --- |
| Dimensions (H x W x D) | 53.9 in x 57 in x 111 in (1370 mm x 1448 mm x 2820 mm) |
| Net Weight | 1467 lbs (665 kg) |
Machines
Machines Processes
Stick (SMAW)
Gouging (CAC-A)
TIG (GTAW)
MIG (GMAW)
Flux-Cored Self-Shielded (FCAW-S)
Flux-Cored Gas-Shielded (FCAW-G)
IEC Rating
300A / 32V / 100% @ 104°F (40°C)
Max Rating
400A / 23V / 100% @ 104°F (40°C)
Output Range by Mode
CC-Stick: 30 – 400 Amps, Downhill Pipe (CC): 40-300 Amps, Touch Start TIG: 20 – 250 Amps, CV-Wire: 14 – 32 Volts, Arc Gouging: 90 – 300 Amps,
Open Circuit Voltage
73 Peak OCV at 1800 RPM
Rated Gouging Carbon Diameter
5/16" (8.0 mm)
Engine Driven Welders
Single Phase Auxiliary Output
10,000 Watts Continuous, 120/240V
Three Phase Auxiliary Output
11,000 Watts Continuous, 240V
Auxiliary Output Frequency
60 Hz
Receptacle Types
NEMA 5-20R
NEMA 14-50R
NEMA 15-50R
Engine Brand & Model
Kubota® V1505
Engine Description
4 Cylinder Naturally Aspirated Water Cooled Diesel Engine
Engine Horsepower
22.0 hp (16.4 kW)
Engine Block Size & Displacement
91.4 cu. in (1.5 L), Bore x Stroke - 3.07 in x 3.09 in (78 mm x 78 mm)
Emissions Rating
US EPA Tier 4 Final
High Idle Operating Speed @ Rated Output
1800
Low Idle Operating Speed
1350
Fuel Tank Size (US gal.)
20 US gal.
Fuel Tank Size (L)
75.7 L
Oil Capacity (qts.)
6.4 qts.
Oil Capacity (L)
6.0 L
Coolant Capacity (US gal.)
1.8 US gal.
Coolant Capacity (L)
6.8 L
Application
Typical Application
Construction
Mining
Railroad Maintenance
Construction & Field Erection
Maintenance & Repair
Offshore
Oil & Gas
Power Generation
Shipbuilding
Structural Fabrication
Structural Welding
Warranty
| | |
| --- | --- |
| Warranty | 3 Years Parts and Labor - Engine warranted separately by engine manufacturer |