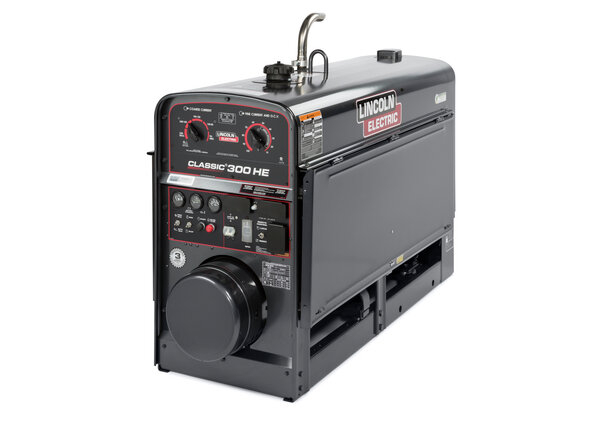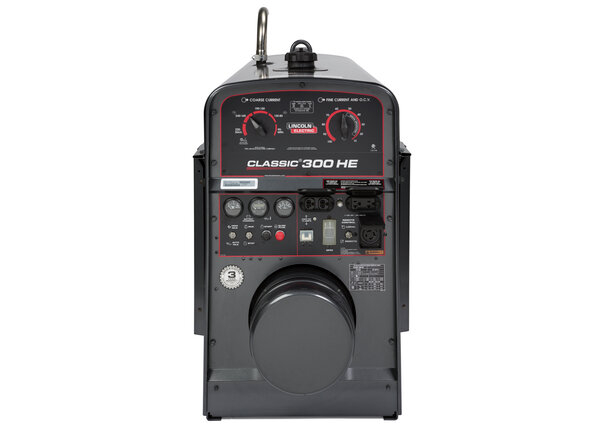 The Classic® 300 HE features Lincoln Electric's well-known pure DC generator in proven, simple, and rugged packaged. The all-copper windings and flat DC output ensure a smooth, stable arc that enhances arc control for excellent performance on pipe, construction, and maintenance welding.
Features
Pure DC Generator Welding Output – Produces the welding arc preferred by pipeline operators and contractors for precise control of the arc in demanding code applications.
Five Current Ranges with Overlap – For stick welding and other processes where slope control is desired with fine-tuning available within each range.
All Copper Windings– Enhances arc stability for a really smooth, high performance arc.
300 Amps Output @ 60% Duty Cycle – Welds up to 7/32 in. (5.6 mm) Fleetweld®5P+ cellulosic and Excalibur® low hydrogen electrode
Fuel Efficient Industrial Diesel Engine – Powered by a 24.7 hp, naturally aspirated Kubota® diesel engine offering big fuel savings over previous modes
Optional Wire Welding Capability - Purchase the available Wire Feed Module for CV-wire welding to increase productivity and reduce welding costs.
Service Information
Documentation
Product Weights & Dimensions
| | |
| --- | --- |
| Dimensions (H x W x D) | 37.1 in x 24.3 in x 62.8 in (943 mm x 616 mm x 1594 mm) |
| Net Weight | 1371 lbs (622 kg) |
Machines
Machines Processes
Stick (SMAW)
Gouging (CAC-A)
TIG (GTAW)
IEC Rating
250A / 30V / 100% @ 104°F (40°C)
Max Rating
300A / 32V / 60% @ 104°F (40°C)
Output Range by Mode
40-350A DC Welding Tapped Control - 220 - Max, 160-240, 120-190, 80-130, Min-90
Open Circuit Voltage
90 Peak OCV @ 1800 RPM
Rated Gouging Carbon Diameter
3/16 in (5.0 mm)
Engine Driven Welders
Single Phase Auxiliary Output
3,000 Watts Continuous, 120/240V
Auxiliary Output Frequency
60 Hz
Receptacle Types
NEMA 5-20R
NEMA 6-15R
Engine Brand & Model
Kubota® D1503
Engine Description
3 Cylinder Naturally Aspirated Water Cooled Diesel Engine
Engine Horsepower
24.7 hp (18.4 kW)
Engine Block Size & Displacement
91.5 cu. in. (1.5 L)
Emissions Rating
US EPA Tier 4 Final
High Idle Operating Speed @ Rated Output
1800
Low Idle Operating Speed
1440
Fuel Tank Size (US gal.)
16 US gal.
Fuel Tank Size (L)
60.6 L
Oil Capacity (qts.)
5.9 qts.
Oil Capacity (L)
5.6 L
Coolant Capacity (US gal.)
1.98 US gal.
Coolant Capacity (L)
7.3 L
Application
Typical Application
Construction
Cross Country Pipeline
Construction & Field Erection
High-strength Pipe
Maintenance & Repair
Oil & Gas
Pipeline & Offshore
Piping
Power Generation
Structural Fabrication
Warranty
| | |
| --- | --- |
| Warranty | 3 Years Parts and Labor - Engine warranted separately by engine manufacturer |