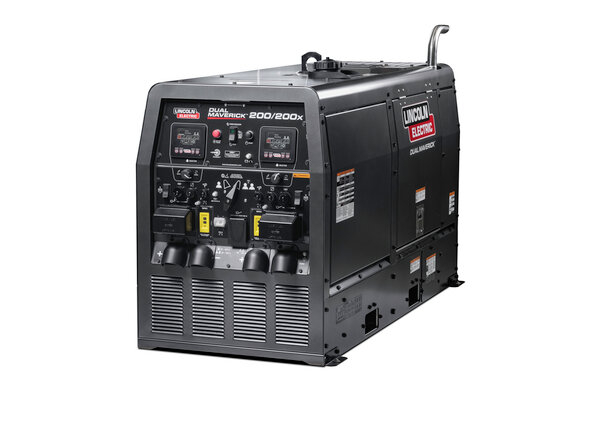 The Dual Maverick® 200/200X is an advanced engine driven welder with dual welding outputs. This best-in-class arc welding machine provides substantial power to multiple welding arcs, runs quietly, and promotes fuel savings with variable engine RPM and auto start/stop capabilities. In addition, the machine boasts an advanced user interface on two heavy-duty 4.3" weatherproof LCD screens. These easy setup screens host intuitive user functionalities to keep things simple. Lastly, the machine is enabled with CrossLinc® technology, which allows the adjustment of machine output at the arc to promote productivity, site safety, and overall weld quality.
Features
Optimized Operations – Utilizes a single engine to offer two welding arcs with up to 200 amps of output or choose single operator mode for one arc up to 450 amps of output to promote a more efficient welding environment. Save space and make transportation easier moving one machine instead of two!
Advanced User Interface – Features two 4.3" weatherproof LCD screens with an intuitive interface to provide easy setup and increased functionality, and automatically notifies operators of upcoming maintenance needs to help keep the machine running at peak performance.
CrossLinc® Enabled – Allows communication through a standard weld cable to enable voltage or current control at the arc without a control cable to help improve safety, quality, and productivity with less trips to the power source and reduced jobsite clutter. Built-in True Voltage Technology™ (TVT) compensates for voltage drop to further improve ease of operation.
Quiet Operation – Designed to run at lower noise levels to allow for vital directions or control-related communication near the welding machine to help promote a safer and more ideal welding environment by reducing worksite noise.
Fuel Savings – Help to increase fuel savings with variable engine RPM based on welding output level and auto stop/start functionality to avoid excessive idling.
Industrial Diesel Engine – Powered by a 24.8 HP, naturally aspirated Kubota® diesel engine. Runs smooth and quiet while meeting EPA Tier 4 Final compliance.
Rent-Ready Package – Product comes in one preassembled package from the factory. Ready-Pak® 1 option includes the welder, trailer, fender and light kit, cable rack, welding cables, ground clamps, and electrode holder.
Product Weights & Dimensions
| | |
| --- | --- |
| Dimensions (H x W x D) | 36.1 in x 27.0 in x 65.0 in (917 mm x 686 mm x 1651 mm) |
| Net Weight | 1522 lbs (690 kg) |
Machines
Machines Processes
Stick (SMAW)
Gouging (CAC-A)
TIG (GTAW)
MIG (GMAW)
Flux-Cored Self-Shielded (FCAW-S)
Flux-Cored Gas-Shielded (FCAW-G)
IEC Rating
Single: 290A / 31.6V / 100%, @ 104°F (40°C)
Dual: 170A /26.8V / 100% @ 104°F (40°C)
Max Rating
Single: 335A / 33.4V / 60%, @ 104°F (40°C)
Dual: 200A / 28V / 60% @ 104°F (40°C)
Output Range by Mode
Single Mode: CC-Stick: 50 – 450 A, Downhill Pipe (CC): 50-450 A, Touch Start TIG: 20 – 255 A, CV-Wire: 13 – 40 V, Arc Gouging: 100 – 450 A
Dual Mode: CC-Stick: 30 – 255 A, Downhill Pipe (CC): 30 – 225 A, Touch Start TIG: 20 – 250 A, CV-Wire: 13 – 40 V, Arc Gouging: 100 – 250 A
Open Circuit Voltage
60 Peak OCV at 3600 RPM
Rated Gouging Carbon Diameter
3/8" (9.5 mm)
Number of Operators per Machine
2
Machines Communication Technology
CrossLinc
Engine Driven Welders
Single Phase Auxiliary Output
10,000 Watts Continuous, 120/240V
Auxiliary Output Frequency
60 Hz
Receptacle Types
NEMA 5-20R
NEMA 14-50R
Engine Brand & Model
Kubota® D902
Engine Description
3 Cylinder Naturally Aspirated Water Cooled Diesel Engine
Engine Horsepower
24.8 hp (18.5 kW)
Engine Block Size & Displacement
54.8 cu. in (.90 L)
Bore x Stroke - 2.83 in x 2.90 in (72 mm x 73.6 mm)
Emissions Rating
US EPA Tier 4 Final
High Idle Operating Speed @ Rated Output
3600
Low Idle Operating Speed
2500
Sound Rating @23 ft. (7m)
69 dBA at Low Idle
74 dBA at High Idle
Fuel Tank Size (US gal.)
20 US gal.
Fuel Tank Size (L)
75.7 L
Oil Capacity (qts.)
3.92 qts.
Oil Capacity (L)
3.7 L
Coolant Capacity (US gal.)
0.9 US gal.
Coolant Capacity (L)
3.3 L
Application
Typical Application
Construction
Construction & Field Erection
Maintenance & Repair
Oil & Gas
Power Generation
Structural Fabrication
Structural Welding
Warranty
| | |
| --- | --- |
| Warranty | 3 Years Parts and Labor - Engine warranted separately by engine manufacturer |