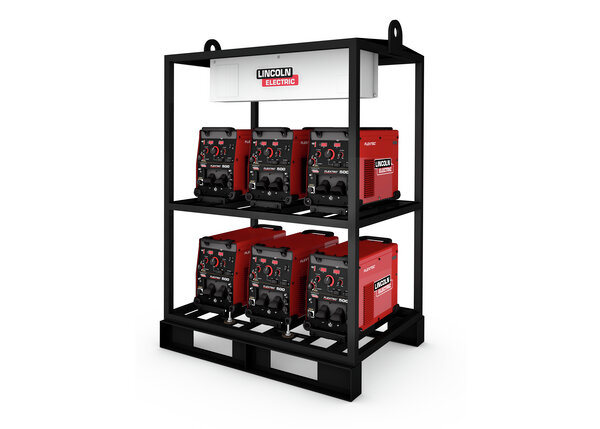 Powerful Performance From the Ground Up
Out in the shipyards, construction sites and fabrication shops, it pays to keep it simple. The Flextec 500X multi-process welder is easy to set up and operate, yet rugged enough to stand up to heavy-duty indoor and outdoor applications.
Basic pulse MIG capability is standard on the Flextec 500X , including weld modes for cabon steel, stainless steel, aluminum and metalcore electrodes.
The Flextec 500X welder is also equipped with CrossLinc® technology giving you the fexibility to control the machine from hundreds of feet away without a control cable.
SIMPLE
Simple interface for ease of use
CrossLinc technology eliminates extra cables for simple system setup
RELIABLE
IP 23 rating means the Flextec 500X welder will excel in outdoor environments, such as construction sites and shipyards
Flextec 500X welder is Desert Duty® rated for operation in the harshest environments (up to 55C)
Durable trayed and potted PC boards for electronics environmental protection
FLEXIBLE
Multi-process power source for all your welding needs
Compatible with all 42VAC wire feeders for MIG and Flux cored welding
Arclink® enabled power source provides synergic pulse modes
CrossLinc allows for remote control of CV and CC processes without extra cables
Optimized Stick welding for both cellulosic and low hydrogen electrodes
Touch-start TIG for easy, contamination free starts without high frequency
CROSSLINC TECHNOLOGY COMPATIBILITY
Full functionality without control cables
Enables remote procedure setting at the feeder to improve weld quality
Increases arc time with fewer trips to the power source to adjust settings
Improves safety by reducing jobsite clutter
Features
One easy power connection for 6 welding power sources
Forklift holes and lifting eyes to move easily around the jobsite
CrossLinc technology Enabled
IP23 rated for outdoor use
What's Included
6ea. Flextec 500X power sources assembled into tough protective inverter rack.
Service Information
Product Weights & Dimensions
| | |
| --- | --- |
| Dimensions (H x W x D) | 71.22 in x 48 in x 35.5 in (1809 mm x 1219 mm x 902 mm) |
| Net Weight | 800 lbs (435 kg) |
Machines
Machines Processes
Stick (SMAW)
Gouging (CAC-A)
Flux-Cored (FCAW)
TIG (GTAW)
MIG (GMAW)
Pulsed MIG (GMAW-P)
Flux-Cored Self-Shielded (FCAW-S)
Flux-Cored Gas-Shielded (FCAW-G)
Max Rating
500A
Output Range by Mode
5-500A
Machines Communication Technology
analog
digital
CrossLinc
ArcLink
Wire Feeder Supply Voltage
42VAC
Amphenol Pins (type of connector)
5
14
12
Work Lead Connector Type
Lug
Basic Specification
Input Voltage
460,380/400/415,575
Input Current
103/75/61A
Input Hertz
50,50/60,60
Input Power
380/460/575/3/50/60
Input Phase
3
Output Range
5-500A
Rated Output
500A/40V/60%
450A/38V/100%
Application
Typical Application
Cross Country Pipeline
Construction & Field Erection
General Fabrication
Heavy Equipment
Heavy Fabrication
Structural Fabrication