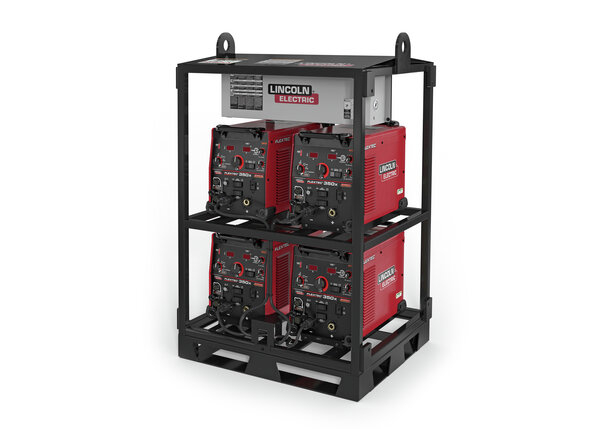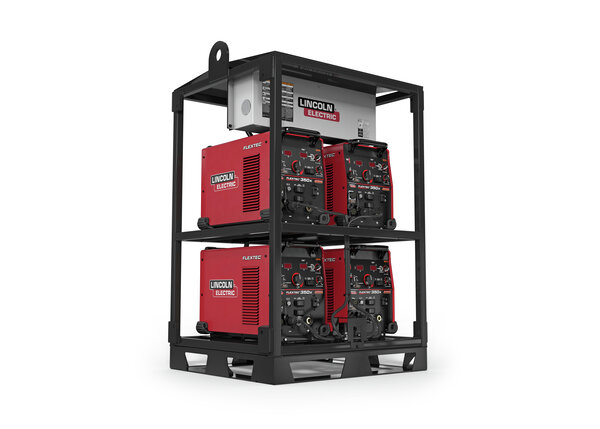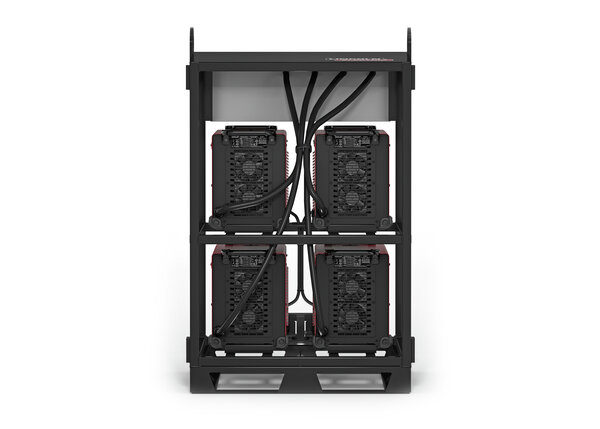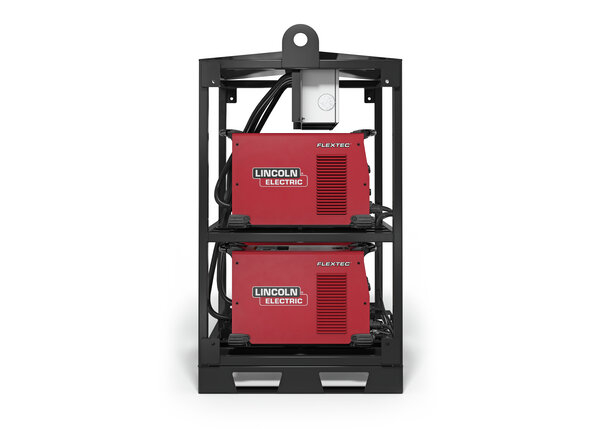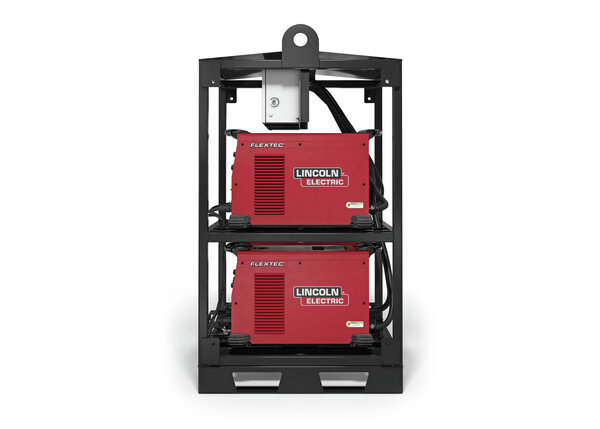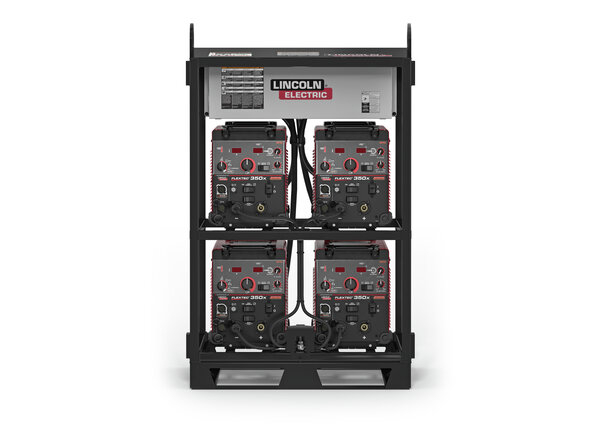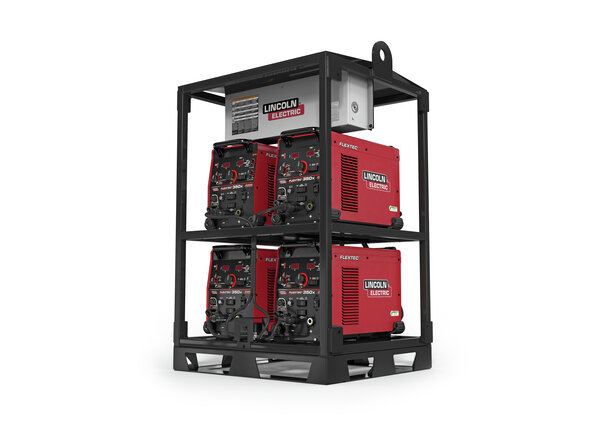 HEAVY DUTY, COMPACT, EXPANDABLE
Buy a 4-Pack and Expand to an 8-Pack Anytime!
Competitive Advantages
Bolt two 4-pack racks together to form an 8-pack that can be moved or lifted together as a unit.
Uses commonly available low cost fuses to reduce ongoing operations costs
Forklift slots on ALL Sides of the rack - width AND depth
Heavy Duty Casters stand up to rough use (optional)
Heavy square tubing used throughout construction, even for roof supports, to resist bending and twisting during lifts.
Heavy duty rack base supports product and rack structural members and resists abuse
Welder Mounting Plate makes mounting or removing each welder a quick and easy process
Junction Box Door is designed to open DOWN, leaving a convenient place to set tools while setting up the rack.
Neat Input Cable Routing keeps all rack cabling inside the rack to avoid pinching or cutting during operation
Rack design easily accommodates strain relief on the welding cables
Meets National Electrical Code (NEC) when properly installed
Power all welders with one primary power drop
Purchase a complete system with factory-installed welders pre-wired to the main power distribution panel.
Why Use Racks?
Greater Job Site Safety
Fewer High Voltage Cables
Faster Set Up Time
More Protection for Equipment
Features
Runs on any input voltage 200-600VAC
One Input drop for 4 power sources
Forklift holes and lifting eyes to move easily around the jobsite
CrossLinc technology Enabled
IP23 rated for outdoor use
Flextec 350X PowerConnect machines use industry segment Tweco style connections.
What's Included
Work leads from each individual power source to the inverter rack common ground stud included.
Service Information
Product Weights & Dimensions
| | |
| --- | --- |
| Dimensions (H x W x D) | 59.72 in x 37.5 in x 32.88 in (1516 mm x 952 mm x 835 mm) |
| Net Weight | 644 lbs (293.933 kg) |
Machines
Machines Processes
Stick (SMAW)
Gouging (CAC-A)
Flux-Cored (FCAW)
TIG (GTAW)
MIG (GMAW)
Pulsed MIG (GMAW-P)
Flux-Cored Self-Shielded (FCAW-S)
Flux-Cored Gas-Shielded (FCAW-G)
Max Rating
425A
Output Range by Mode
5-425A
Machines Communication Technology
analog
digital
CrossLinc
ArcLink
Wire Feeder Supply Voltage
40VDC
Amphenol Pins (type of connector)
5
14
12
Work Lead Connector Type
Tweco
Basic Specification
| | |
| --- | --- |
| Input Voltage | 200-575/1/3/50/60 |
| Input Current | 74/68/68 (4-Pack) |
| Input Hertz | 50,50/60,60 |
| Input Power | 200/230/380/460/575/3/50/60 |
| Input Phase | 3 |
| Output Range | 5-425A |
| Rated Output | 350A/34V/60%,300A/32V/100% |
Application
Typical Application
Cross Country Pipeline
Construction & Field Erection
General Fabrication
Heavy Equipment
Heavy Fabrication
Structural Fabrication