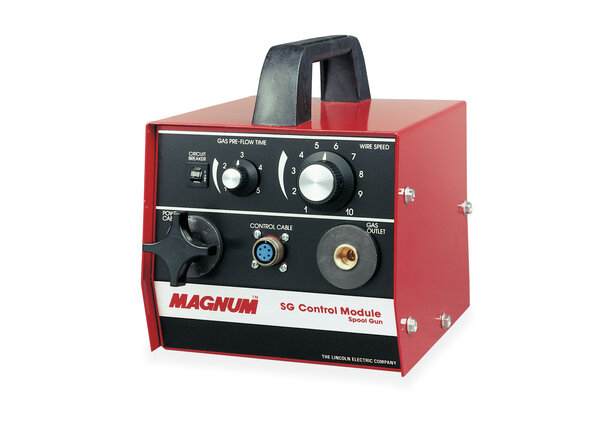 The Magnum® SG – a lightweight, well balanced semiautomatic spool gun designed for easy and reliable aluminum wire feeding with a variety of CV power sources and engine-driven welders. Rated 250 amps @ 60%, the Magnum SG features a generous 25 ft. (7.5 m) gun cable and integrated wire feed speed control in the handle to cut your trips back to the power source.
Features
Eliminates many of the wire feeding issues associated with feeding soft aluminum wire electrode through a conventional push wire feeding system.
Large easy-grip handle with sizeable trigger.
Remote wire speed control reduces trips to the welding power source.
Clear body and wire spool covers makes it easy to check the wire drive path and check remaining wire at a glance.
Durable gas nozzle built to stand up to rugged use.
Service Information
Documentation