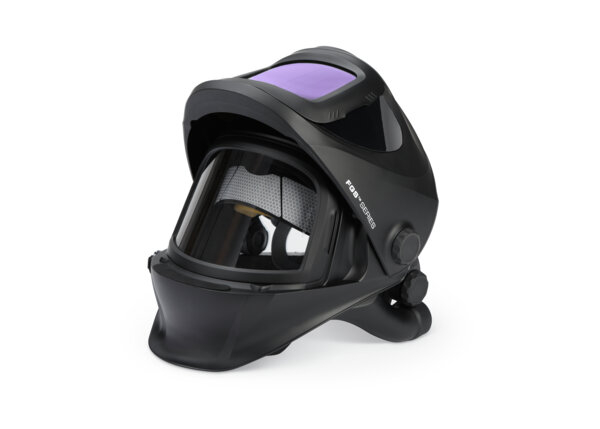 VIKING 3250D FGS Hard Hat Helmet Assembly
The Single Helmet Solution - In any fabrication environment, productivity, safety, and optic clarity are important. The VIKING® 3250D FGS from Lincoln Electric provides enhancements to each of these elements when compared to a standard welding helmet.
Industry Leading Optics
4C® Lens Technology - Broadens the color range & hues which can be seen in both light and dark states. This eliminates imperfections and color saturation to create the clearest view of the base material, arc & puddle
Perfect 1/1/1/1 Optical Clarity - This rating is determined by measuring blurriness, distortion, shade consistency and angle uniformity of the auto-darkening welding lens
Extra Large Viewing Area - The 12.5 square inch auto darkening lens provides a large field of view to increase versatility and operator control
Versatile Hard Hat Design - Industrial impact protection through a high-density polyethylene (HDPE) shell and a simple, adjustable fit 
Maximizing Field of View
The integrated clear grind shield and shade 5 side windows increase field of view in both the open and closed positions.
Safety
Versatile Hard Hat Design - Industrial impact protection through a high-density polyethylene (HDPE) shell and a simple, adjustable fit 
Expanded Field of Vision - Larger viewing area in both the open and closed positions makes material inspection, grinding, and general movements less hazardous
Impact Protection - The ANSI Z87.1 compliant grind shield can protect operators from various impact hazards
Features
Integrated Hard Hat - Provides comfortable protection and meets hard hat standards including ANSI/ISEA Z89.1 and CSA Z94.1
Premium Optics - 4C® Lens Technology, 1/1/1/1 Optical Clarity, and large widescreen 12.5 sq. inch viewing area.
Enhanced Productivity & Safety - Integrated clear grind shield with anti-fog coating
3 year hassle free warranty
What's Included
Helmet shell
Auto-darkening lens
Headgear
Headcovering
Airduct
Clear protective lenses
Hard hat
Service Information
Documentation
Respiratory Protection
| | |
| --- | --- |
| Respiratory Protection Product Types | Helmet Accessory |
| Respiratory Protection Product Series | 3250D FGS |
| Respiratory Protection Accessory Type | Welding Helmet Assembly |
Warranty
| | |
| --- | --- |
| Warranty | 3 years / 36 months from date of purchase |