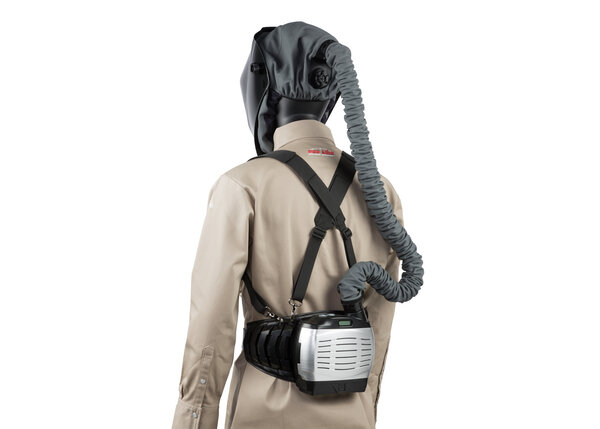 COMFORT, PERFORMANCE AND EFFICIENCY Clear The Air On Welding Safety Where welding operations are concerned, safety is directly connected to air quality. When welding must be performed in enclosed or other areas where it is difficult to provide effective ventilation or otherwise control exposure to welding fume, the last line of defense is personal protective equipment for the individual operator. The VIKING™™ PAPR (Powered Air Purifying Respirator) provides effective air-purification solution all-day long. 1/1/1/1 optical clarity The VIKING™™ PAPR is a complete system that purifies ambient air from the shop and delivers filtered, breathable air for as much as eight hours without interruption. The two-speed blower drives air through the hose to a VIKING™™ 3350 helmet rated for a perfect 1/1/1/1 optical clarity. A patent pending adjustable baffling system inside the helmet directs air away from eyes to keep them from getting dry. The PAPR system has a respiratory protection class TH2 (EN 12941). Proper ventilation may not always be an option in every welding environment. Bring fume protection and filtered air directly to the operator in difficult environments and keep it there all day with the PAPR.
Features
Size of Blower Assembly (W x T x D) : 203 x 191 x 76 mm
Weight of Blower (including battery, belt and filters) : 1.0 kg
Operating Temperature : -5° to 55°C
Battery Type: Lithium Ion (Rechargeable)
Optical Class : 1/1/1/1 (per EN 379)
Lens Switching Speed (sec) : 1/25,000
Variable Shade/Control : 5-13 Internal
Magnifying "Cheater" Capable Lens
Grind Mode Shade/Control : 3.5 Internal
TIG AMP Rating : DC > 2 Amp - AC > 2 Amp
What's Included
Blower Unit; VIKING™ 3350 Black Helmet; Head Cover; Hose; 2 Particulate Filters; 736-1321mm Padded Belt; Shoulder Strap; 220V Battery Charger; Duffle Bag; Rechargeable Battery; Pre-Filter; Spark Guard; Hose Cover; Extra helmet cover lenses: inside 2 pcs
outside 5 pcs; Instruction Manual.
Service Information
Respiratory Protection
| | |
| --- | --- |
| Respiratory Protection Product Types | VIKING PAPR 3350 TH2 CLASS |
| Respiratory Protection Compliance | EN379:2003+A1:2009 EN166:2001-04 EN175:1997-08 EN12941:1998+A1:2003 +A2:2008 |
| Respiratory Protection Product Series | VIKING 3350 |
| Respiratory Protection Filter Type | TH2 CLASS |
| Respiratory Protection ADF Viewing Area | 95 x 85 mm |
| Respiratory Protection Headgear Type | FR Flame Retardant |
| Respiratory Protection Weight | 1595 g |
| Respiratory Protection Air Flow | Two Air Flow Settings – push the on button to change 180 lpm 210 lpm Blower motor automatically adjusts fan speed to keep air flow constant Blower Screen Shows Battery run time – 3 full bars means fully charged Flow Rate – shown in liters per minute Filter life – 3 full bars means filter needs changed Audible and Vibratory alarms notify welder of low air flow or low battery |
| Respiratory Protection Battery Charge Time | Standard Battery 3 Hours |
| Respiratory Protection Battery Charges | Extended Battery 4.5 Hours |
| Respiratory Protection Battery Life | Superior Battery Life – The standard lithium ion battery has a 9-hour capacity and the extended battery has over 16 hours of battery life |
| Respiratory Protection Alarms | Audible and Vibratory alarms notify welder of low air flow or low battery |
Application
Typical Application
Construction
Mining
Railroad Maintenance
Cross Country Pipeline
Armor Plate (Military)
Automotive
Brewery
Construction & Field Erection
Dissimilar Metals
Distillery
Elevated Temperature Piping
Galvanized Steel
Gasification Plants
General Fabrication
Glass Industry
Heat Exchangers
Heavy Equipment
Heavy Fabrication
High Pressure Piping
High Temperature
High-strength Pipe
LPG & LNG Storage Vessels
Maintenance & Repair
Marine Applications
Marine Fabrication & Repair
NACE Applications
Offshore
Oil & Gas
Petrochemical
Petrochemical Industry
Petroleum Processing
Pharmaceutical Equipment
Pipeline & Offshore
Piping
Power Generation
Power Plants
Pressure Vessels
Process Piping
Railcar Fabrication
Railing Industry
Casting Repair
Repair Welding
Shipbuilding
Structural Fabrication
Structural Welding
Warranty
| | |
| --- | --- |
| Warranty | Blower Assembly 1 Year Warranty ADF Helmet 3 Year Warranty |