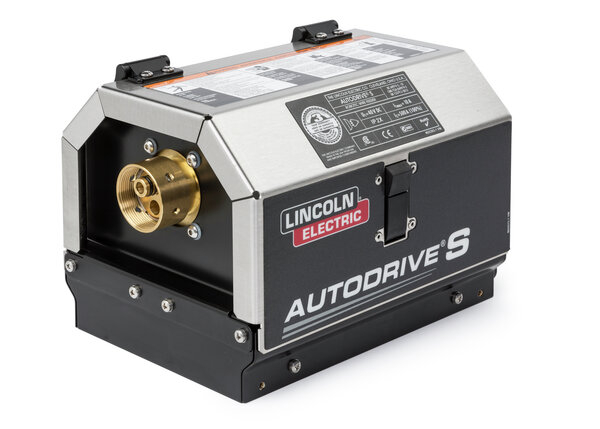 THE EVOLUTION OF SPEED AND PRECISION
Sometimes less is more, even when it comes to robotic welding in automotive fabrication and other industries. AutoDrive S is designed and built with this principle in mind. It reduces inconsistent or failed starts, spatter, burnback and other mishaps associated with pre-programmed wire feeding.
AutoDrive S employs touch-retract starting technology, a system that touches the wire to the work, senses the touch and retracts the wire, initiating the arc at a lower current. The softer start minimizes spatter or eliminates it altogether, and extends the life of the consumable. This reduces operating costs over the long term, and when there is little or no spatter to remove after the weld, up time and productivity improve dramatically.
GET IN TOUCH
Precise Starts, Increased Production
Get the right touch when you need it. AutoDrive S is engineered with touch-retract start technology that reduces arc start failures and increases arc-on time. This improves up time and productivity, and reduces operating costs over the long term.
More Control, Better Quality
Not all welding tasks are created equal. The AutoDrive S delivers higher quality welds that are more consistent throughout the entire length, producing the best results for the more challenging welding applications.
Minimal Spatter, Longer Life
Dont let spatter drive up your costs. AutoDrive S ensures the cleanest possible start and minimizes damage to the contact tip. Less wear and tear on the tip means longer life, fewer replacement tips and less downtime - all of which improves the bottom line.
Perfect Starts
In a standard robotic starting routine, the wire feeder and the welding power supply work together, but operate independent of each other. This can cause inconsistency from one start to another.
AutoDrive S Touch-Retract Starting
Creates perfect synergy between the Power Wave platform and the wire feeder, providing absolute control over the acceleration and deceleration of wire feed speed.
The Precision of the AutoDrive S
In combination with the fast communication speed and welding capability of the Power Wave platform, results in nearly flawless arc initiation every time.
Features
Higher quality welds that are more consistent throughout the entire length
Touch retract starting ensures the cleanest possible start, minimizing spatter
Reduces wear on contact tips, resulting in longer consumable life
Reduces arc start failures and increases arc-on time

For a full list of available welding processes and waveforms as well as software update details for Power Wave® advanced process welding systems, please visit:
Service Information
Documentation