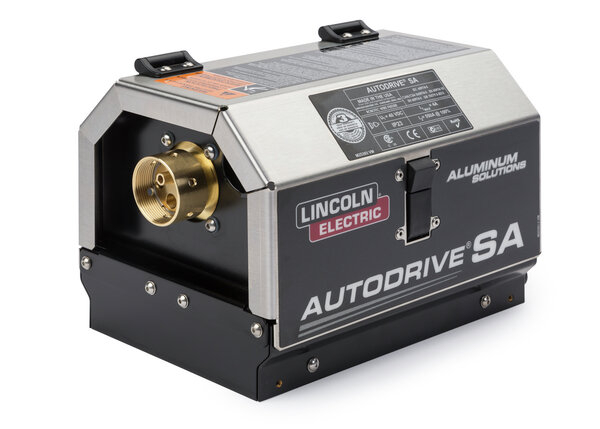 A BETTER START, A BETTER WELD
When it comes to welding aluminum parts robotically, arc starts and consistent wire feeding are crucial. AutoDrive SA is a high-performance aluminum servo torch solution engineered to address the common problems with robotic aluminum welding all to make the welding process easier and hassle-free. The system integrates with a robot and communicates directly with a Lincoln Electric Power Wave resulting in a best-in-class Aluminum solution.

SIMPLICITY AND EFFICIENCY
A Clean Start
AutoDrive SA uses touch-retract start technology to initiate each robotic weld with no spatter or burnback. This ensures a consistent arc start from start to finish.
It's All About the Weld
The AutoDrive SA allows the Power Wave to have precise control over the wire feed speed. The coordination of the wire feed speed, paired with Power Wave Waveform Control Technology, results in an aluminum weld that only Lincoln Electric can deliver.
Longer Life, Improved Productivity
AutoDrive SA uses Magnum PRO Copper Plus contact tips. The system goes the distance by delivering more than 250,000 starts and stops with a single contact tip. This represents a decrease in change overs, a reduction in downtime and a significant increase in productivity.
Features
Touch-retract start technology to initiate each robotic weld with no spatter or burnback.
Consistent arc start from start to finish.
Delivers more than 250,000 starts and stops with a single contact tip.
Consistent wire feeding for robotic aluminum welding.

For a full list of available welding processes and waveforms as well as software update details for Power Wave® advanced process welding systems, please visit:
Service Information
Documentation