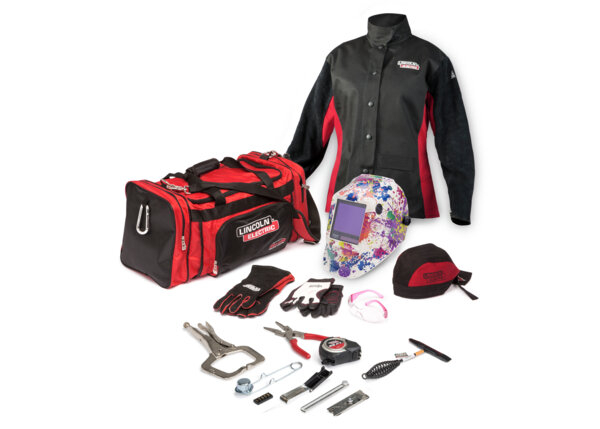 VIKING® 3350 Series with 4C® Lens Technology
The VIKING 3350, our top-of-the-line helmet series, provides the best optical clarity available in a welding helmet today and the largest viewing area in its class. The 3350 Series comes with our exclusive 4C® Lens Technology which improves the performance of the lens in the 4 most important categories to the welder:
Clarity - Optical Clarity 1/1/1/1
Color - Real Color View
Carat - Light Weight
Cut - Even Shade From Any Angle
Comfortable, Durable Upper Body Protection
The Women's Welding Gear Ready-Pak® comes with our women's Shadow™ split leather sleeved welding jacket, which features unique ergonomic sleeves, ASTM D6413 complaint FR fabric and a spatter guard button design to provide protection and comfort for all welding processes. Also included are two pairs of women's welding gloves for optimal performance in Stick, MIG, and TIG welding applciations, as well as material handling.
Essential Welding Tools
Completing the welding accessory kit are eight hand tools. A fillet gauge and tape measure help with measureing and evaluating welds, while the welding pliers, chipping hammer, and C-clamp pliers make weld cleaning and material handling easier. Additional tools include a soap stone, tip cleaner, and striker. 
Features
Premium 3350 Series auto-darkening welding helmet expands fields of view, reduces training time, and increases versatility
Women's fitted leather sleeved welding jacket provides enhanced upper body protection, increased comfort, and improved durability
Women's sized welding gloves are designed for optimal performance and comfort in Stick, MIG, and TIG applications
Industrial duffle bag has a 50+ lb carrying capacity for storage of all PPE & tools