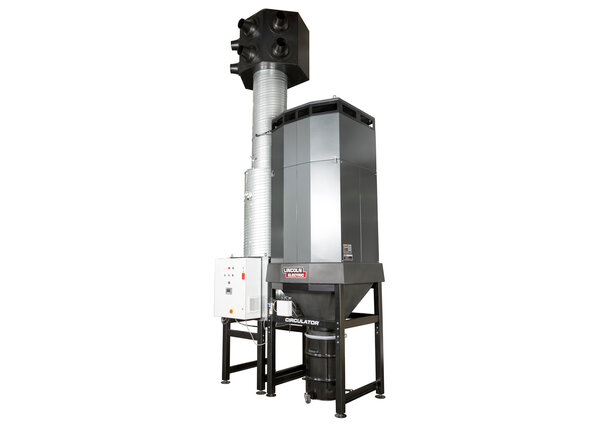 CIRCULATOR® FREE STANDING GENERAL FILTRATION SYSTEM
The product has been designed exclusively for extracting and filtering welding fume which is released during the most common welding fabrication processes. The system supplements the natural ventilation (draft) and/or forced ventilation (roof / wall fans) which may be present to reduce the overall concentration of welding fume in the workshop.

The Circulator Can Be The Right Solution
When overhead cranes are in use (push-pull systems have obstructive ductwork)
In facilities where ductwork cannot be hung
To supplement source extraction in areas where it is currently employed and in areas with outside interferences such as overhead fans and current HVAC
When the weldments are too large to be fully covered by extraction arms.
Features
RotaPulsePlus Automatic Filter Cleaning System. Each time the system is switched off, an automatic cleaning cycle takes place. During this cycle both filter cartridges are cleaned by compressed air jets from the RotaPulsePlus system. The particulate is deposited in the drum beneath the filter.
Adjustable Outlet Nozzles. The nozzles can be easily customized for the configuration based on facility layout, welding areas and specific application needs.
Benefits
Cleaner work environment: Reduce dust and dirt in operator and surrounding work areas
Low cost installation: No ductwork required
Custom engineered to meet facility and application requirements
Easy installation: Position the unit on the floor, a platform or a mezzanine
Low noise level: Will not contribute to increased noise levels
Features
Supplements the natural ventilation and/or forced ventilation
Reduces the overall concentration of welding fume in the workshop
Extracting and filtering welding fume released during the most common welding fabrication processes
Typical Applications
Industrial Applications such Automotive
Light and General Fabrication
Education
Maintenance
Job Shops
Welding Positions
Shielding Gas
Special Features