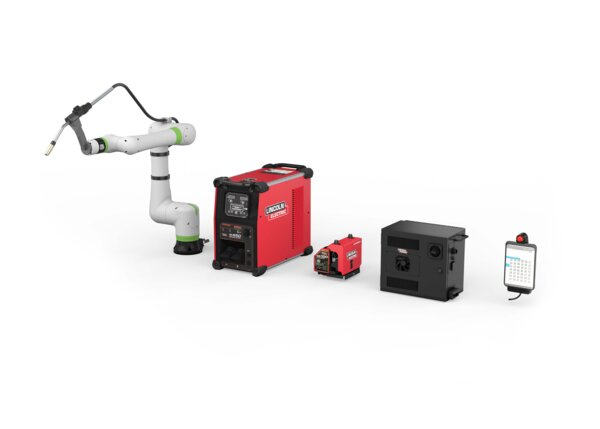 CUSTOMIZE YOUR COBOT SOLUTION.
Across many industries, finding skilled welders is challenging. In finding the best solution, automation is usually the most practical and cost-efficient answer. In order to give you the ability to customize a cobot solution to meet your specific welding requirements, we create the Cooper cobot package.
Features
INCREASE PRODUCTIVITY & WELD QUALITY Welds with an industrial Fanuc® CRX robot driven by a Lincoln Electric Power Wave® R450 power source. The Power Wave software controls and monitors welding processes delivering the highest levels of weld quality and productivity – exactly what you need to be more competitive.
RELIABILITY The CRX FANUC cobot features the same components and technology proven in the most rigorous industries for over 30 years. FANUC backs their reliability by providing a guarantee of eight years ZERO maintenance on motors, reducers, sensors, cables and grease.
SUPPORT TO HELP YOU SUCCEED AT AUTOMATION We offer FREE on-line training, in-person training classes, the support of 275 technical sales representatives, and the expertise of 115 robot technicians.
Typical Applications
General Fabrication
Heavy Fabrication
Automotive
Service Information
Documentation