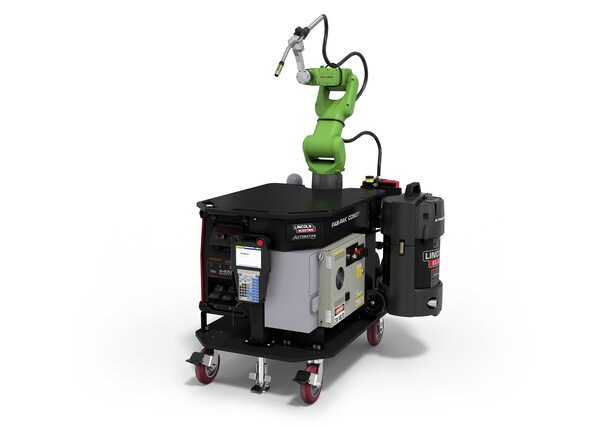 Made by the world leader in welding manufacturing, the Fab-Pak® Cobot robotic welding system gives manufacturers of all sizes – and even those brand new to robotic automation – a safer and more easily-programmable solution for reducing operating costs and cycle times. Compared to traditional robotic workstations and other collaborative robots, this industrial-grade welding cobot can be configured for standard MIG and twin-wire welding on steel and aluminum with touch-sense technology, weaving and seam-tracking capabilities. The Fab-Pak Cobot can be moved to the part you need to weld quickly and easily, all while safely operating in tandem with your production staff. When skilled welders are hard to find and fixed welding cells just won't do, the Fab-Pak Cobot delivers a level of quality, consistency and flexibility you can count on again and again.
Features
Power & Force Limiting Robot - Integral sensors allow the operator to safely work alongside the robot arm without the traditional fenced work cell.
Highly Flexible - Easy to deploy and re-deploy wherever and whenever you need it in your shop.
Small Footprint – Gain the production benefits without giving up the floor space. Benefit from a small footprint- despite complete welding capabilities.
Lower Learning Curve - Minimal tech-savviness required makes training operators simple and straightforward.
What's Included
Power Wave® R450 Power Source

FANUC CR-7iA/L Collaborative Arc Welding Robot Arm

AutoDrive® 4R100 Wire Feeder

Magnum® PRO Air-Cooled Robotic Torch

Heavy-Duty Caster System

Integrated Gas Tank Stand

Kickstand Cart Stabilizer
Service Information