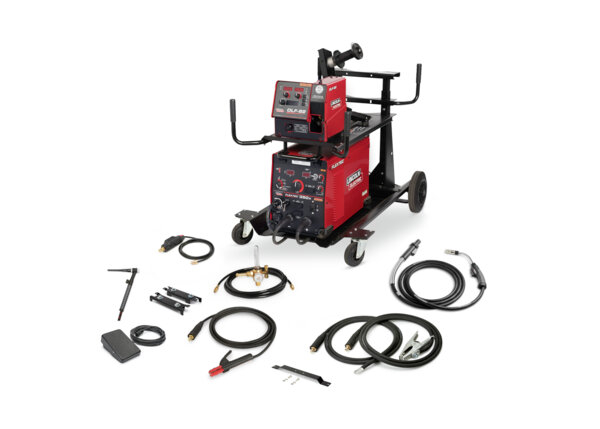 The Flextec 350X PowerConnect / DLF-82 Ready-Pak is the perfect 350A pulsed MIG system for education applications. Utilizing the tough and realiable Flextec 350X PowerConnect mulit-process power source, the ready-pak combines the DLF-82 wire feeder for a 350A system that is simple and realiable with the added benefit of pulsed MIG capability, as well as true multi-process support. This package includes everything most education facilities need to support MIG, TIG and Stick welding processes.
Features
Lincoln Ready-Paks are fully assembled. Just connect power and add wire and sheilding gas.
Includes assembled inverter / wire feeder cart
Simple to Use – For synergic setup, choose desired weld process, wire type, wire diameter and gas type.
Synergic weld modes = one knob control. Set higher wire feed speeds for thicker materials and lower wire feed speeds for thinner materials. Voltage is automatically adjusted.
Pulsed MIG Support – lower spatter, greater puddle control, more forgiving MIG process.
Supports input power ranging from 200-575V. Single or 3-phase.