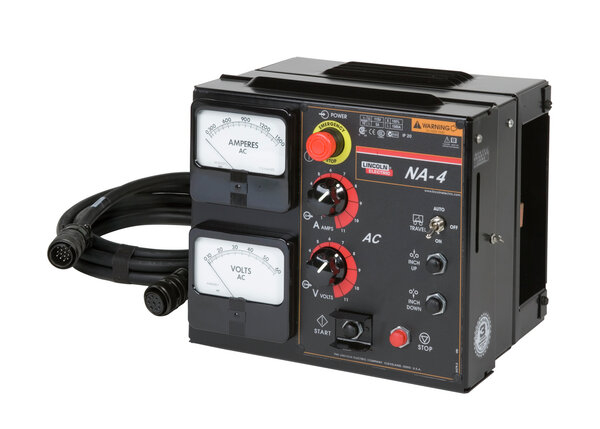 AUTOMATIC WELDING SYSTEMS
Improve productivity with the NA-4 automatic wire feeders. These systems have been specially designed to deposit more weld metal at fast travel speeds which eliminates bottlenecks and cuts costs.
Operating Versatility - Easily adapt to a wide range of wire feed speeds and wire sizes.
Compact Units With Excellent Flexibility - Fit into simple fixtures or the most complex automated production lines.
Rugged Construction - Minimize downtime and maintenance costs.
Service Information
CAD Files
Product Weights & Dimensions
| | |
| --- | --- |
| Dimensions (H x W x D) | 11 in x 13.5 in x 9.7 in (279 mm x 343 mm x 246 mm) |
| Net Weight | 35 lbs (16 kg) |
Wire and TIG Feeders
| | |
| --- | --- |
| Feeder type | Automatic |
| Configuration | Single |
| Max spool diameter | Drum |
| Communication Technology | analog |
| UI type | Meters |
| Max Wire Diameter (Solid) | 7/32 in (5.6 mm) |
| Feedhead Configuration | Control Box Only |
| Power Source to Feeder Communication Connector Type | 9-pin |
| More Information | WFS 25-650 IPM subject to arc voltage used |
Basic Specification
| | |
| --- | --- |
| Input Voltage | 115 VAC |
| Input Hertz | 50/60 |
| Rated Output | up to 1500A 100% Duty Cycle |
Application
| | |
| --- | --- |
| Typical Application | Heavy Fabrication |