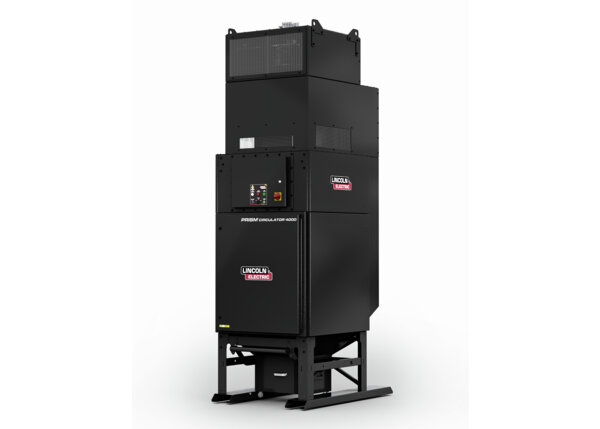 Designed for facilities where additional ductwork is not an option, the Prism Circulator 4000 helps extract welding fumes by continuously circulating and filtering ambient air. Ideal for large and small shop environments, the Circulator 4000 delivers up to 4000 SCFM of high air flow, allowing for 40,000 cu. ft. of ambient air to be filtered every 10 minutes, and can be easily transported and installed in 1 hour.
Features
Quick and easy installation - Can be easily installed in 1 hour. Simply hook up power and compressed air then manually adjust the outlet grid to accomodate the airflow direction required for your facility.
Easy filter change - Quick front door access to the filters for easy change out. All tools included for the filter change process.
Low cost - A more economical solution than traditional circulators.
Intuitive operation - Easy to find and operate start/stop button.
Energy Efficient - Energy Efficient fan that maintains the SCFM throughout filter life.
Transportable - Ships in two pieces and designed to be easily moved with a tow motor.
Two type of filters - Nano for standard applications and PTFE for oily applications.
Typical Applications
High-dust & fume production and logistic areas where ductwork is not feasible.
All welding process on various base materials except stainless steel welding applications
Large part fabrication where source capture, such as fume extraction arms and hoods, are not possible.
Service Information
Documentation