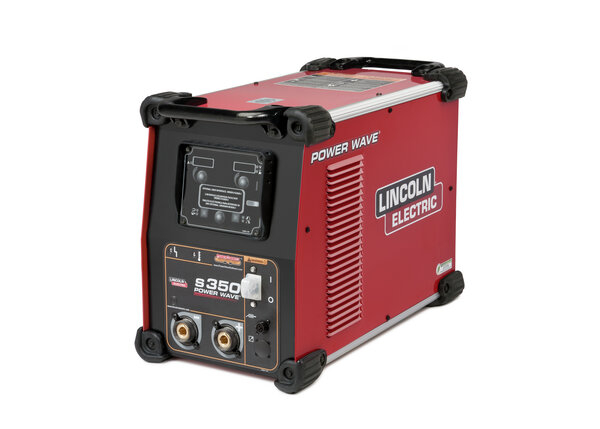 PORTABLE, POWERFUL, MULTI-PROCESS
The multi-process Power Wave® S350 is packed with Lincoln Electric performance technology and innovation. Built to be the best in class advanced process welding machine, the Power Wave® S350 features advanced welding waveforms optimized to provide for nearly any application.
Patented PowerConnect® Technology - Automatically adjusts to input power from 200-600V, 50 or 60 Hz, single phase or three phase. Welding output remains constant through the entire input voltage range.

Tribrid® Power Module - Exceptional welding performance with high power factor and efficiency.

CheckPoint® - A cloud-based system to view or analyze your welding data. Track equipment usage, store weld data, configure fault limits and more.

Optional 115V (10A) AC Duplex Auxiliary Power Receptacle - Features patent-pending Surge Blocker™ Technology to ensure simultaneous welding performance is not compromised by high starting current devices such as grinders (typically requiring 60A or more peak surge current).

Compact and Durable Case - IP23 rated to withstand harsh environments.

Standard Ethernet - Allows for easy software upgrades through www.powerwavesoftware.com.
Features
Modular platform allows for customization to your welding needs. Modules can be stacked directly beneath power source for clean and convenient configuration whether stationary or on a cart.
All Power Wave® systems come standard with access to Lincoln Electric Power Wave® Manager and Lincoln Electric Checkpoint® Production Monitoring allowing for advanced remote configuration, process control, and quality assurance.
Optional 115V AC duplex power receptacle provides power accessories such as grinders and water coolers.
Compact and Durable - IP23 rated
Patented PowerConnect® Technology automatically adjust and maintains consistent output through an input power range of 200v - 600v.
Convenient Ready-Pak® comes ready to weld within minutes!

Industry Leading 5 Year Warranty

For a full list of available welding processes and waveforms as well as software update details for Power Wave® advanced process welding systems, please visit:
Service Information
What's Included
Power Wave S350 Power Source (K2823-3)
Power Feed 84 Wire Feeder (Bench Model) (K3328-13)
0.035 in. (0.9 mm) Drive Roll and Split Wire Guide Kit (KP1505-035S)
0.040 - .045 in. (1.0 - 1.2 mm) Drive Roll and Split Wire Guide Kit (KP1505-045S)
Magnum PRO Curve 400 Gun and Cable Package (K2952-2-10-45)
Work Lead and Wire Feeder Power Source Cables Package - 350 amps 60% duty cycle with Tweco style Cam-Lock connectors and Ground Clamp (K1803-2)
Inverter and Wire Feeder Cart Harris Flowmeter and Regulator (3100211)
Documentation
Product Weights & Dimensions
| | |
| --- | --- |
| Dimensions (H x W x D) | 52 in x 991 in x 26 in (1321 mm x 991 mm x 660 mm) |
| Net Weight | 120.658 lbs (120.658 kg) |
Machines
Max Rating
350
Data Technologies
Ethernet
USB
Machines Communication Technology
ArcLink
Amphenol Pins (type of connector)
5
Wire and TIG Feeders
| | |
| --- | --- |
| Communication Technology | ArcLink |
| Power Source to Feeder Communication Connector Type | 5-pin |
| Accesories Communication Connector Type | 12-pin |
Basic Specification
| | |
| --- | --- |
| Input Voltage | 200/208,220/230/240,380/400/415,460,575 |
| Input Current | 3PH/40% - 39/35/19/17/14A,1PH/40% - 60/61/NA/NA/NA A |
| Input Hertz | 50,50/60,60 |
| Input Power | 208/230/380/415/460/575/1/3/50/60 |
| Input Phase | 1,1/3,3 |
| Mode Icon | CC/CV |
| Output Range | 5-350A DC |
| Polarity | DC |
| Rated Output | 350A/31.5V/40% |