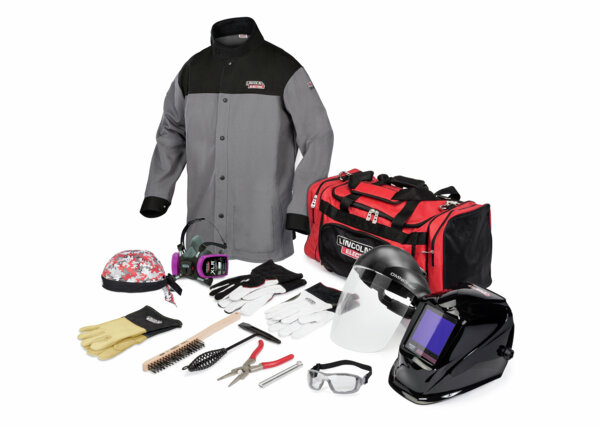 VIKING® 3350 Series with 4C® Lens Technology
The VIKING 3350, our top-of-the-line helmet series, provides the best optical clarity available in a welding helmet today and the largest viewing area in its class. The 3350 Series comes with our exclusive 4C® Lens Technology which improves the performance of the lens in the 4 most important categories to the welder:
Clarity - Optical Clarity 1/1/1/1
Color - Real Color View
Carat - Light Weight
Cut - Even Shade From Any Angle
Comfortable, Durable Upper Body Protection
The premium welding gear ready pak comes with our Shadow™ split leather sleeved welding jacket which features unique ergonomic sleeves, ASTM D6413 complaint FR fabric and a spatter guard button design to provide protection and comfort for multiple welding processes
3 Pairs of Premium Welding Gloves
For optimized performance, the premium welding gear ready pak comes with 3 different pairs of welding gloves which are designed for specific welding processes. The design of each pair of gloves provides different heat resistance and dexterity characteristics based on the intended welding process.
Professional Face Protection
For full face protection for grinding applications, the OMNIShield Professional Face Shield has a high density contoured lens which is 90% thicker than a traditional face shield. This added protection is coupled with multi-axis headgear to enhance comfort and provide a personalized fit.
Essential Welding Tools
Premium welding gear package includes a chipping hammer and wire brush which are needed for stick welding, welding pliers for MIG or Flux Core and soapstone for general purpose use.
Features
Includes 15 separate premium PPE, tool or accessory products for all welding processes, grinding and plasma/oxyfuel cutting
3350 Series Auto-darkening Welding Helmet with 4C® Lens Technology to provide clear view of arc & puddle while reducing eye strain
Premium Leather Sleeved Welding Jacket provides enhanced upper body protection, increased comfort and improved durability
3 Pairs of Welding Gloves for premium performance for multiple welding or cutting processes
Includes essential tools for Stick, MIG and Flux-Core welding processes