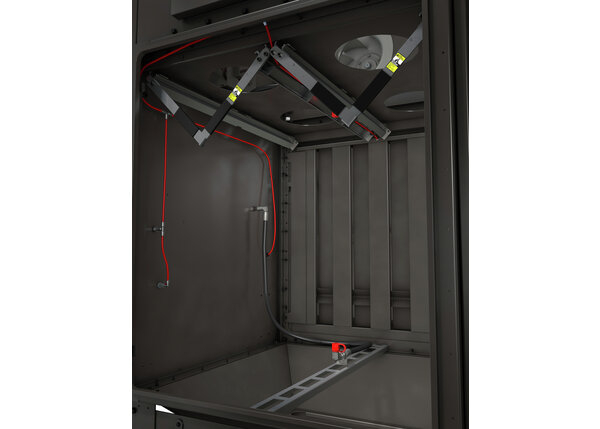 FUME EXTRACTION SYSTEM
The Prism™ Compact from Lincoln Electric is a revolutionary fume extraction system developed for cutting tables, robotic cells and any other applications requiring an extraction hood. The system uses our current Prism vertical filter technology, and is designed for portability and ease of use in height-restrictive environments. This more compact configuration enables the unit to be easily loaded and unloaded from a shipping trailer without a pallet. The slotted leg base allows for easy transportation and installation, which facilitates positioning in different locations around a single building.

We incorporated the Prism Thermal Suppression system into this variation of the Prism Compact to help provide an extra layer of safety and greater peace of mind. Lincoln Electric strongly recommends using a Thermal Suppression system in addition to the integrated spark arrestor when welding oily or stamped parts.
Compact Size - Can be placed directly next to a cutting table or robotic cell

Ships on One Pallet - Allows for easy transportation throughout the facility

Crane-less assembly - Makes for moving the system to a new location extremely easy

Quiet Operation - Silencer and sound deadening materials drastically reduces airflow noise

Simple Maintenance - System will automatically start cleaning process once pre-set pressure differential is reached. Vertical filter orientation allows for more efficient cleaning

Intelligent Fan Controls - Variable speed drive (VFD) regulates fan speed based on filter loading to maximize fume extraction, conserve energy and extend life of the equipment

Integrated Spark Arrestor - Reduces the overall footprint of the unit while adding an additional layer of safety

Prism™ Thermal Suppression - Adds an easy to maintain thermal suppression system to the filter bank for added safety. Recommended for oily and stamped applications
Features
Crane-less Installation
Ships on One Pallet
Quiet Operation
Compact Size
Typical Applications
Industrial Applications such Automotive
Light and General Fabrication
Education
Maintenance
Job Shops