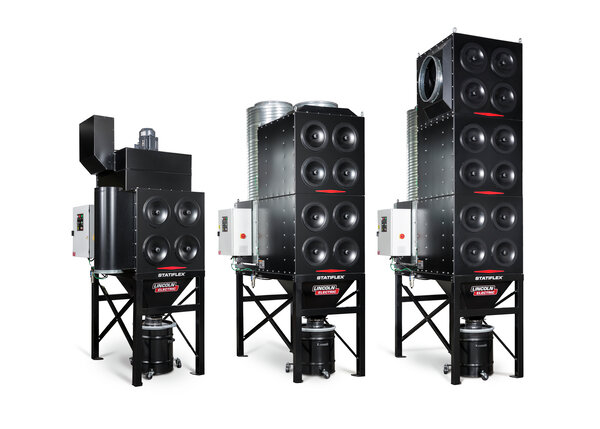 Quiet Operation: The fan compartment of the Statiflex Complete is lined with premium quality sound absorbing material to reduce operating noise. The silencer on the exhaust side of the fan reduces airflow noise as well, resulting in a quietly operating fume extraction system.

Automatic Filer Cleaning Utilizing Lincoln Smart Connect: The Statiflex Complete is capable of monitoring any pressure drops across the filters. If detected above a pre-set value, the system knows that filters are dirty and automatically starts the cleaning process. The particulate is blown off of the filters by controlled blasts of compressed air, which then causes the dust to fall into the dust bin where the harmful material can be extracted.

Intelligent Fan Control Technology: The Statiflex Complete system is equipped with a variable speed starter to fine-tune the extraction airflow to the requirements of the application. The variable speed starter also regulates the fan speed based on filter loading to maintain consistent airflow. This adjustment capability maximizes fume extraction, conserves energy and extends the equipment life, which ultimately results in capital expenditure savings.

Quick and Simple Installation
Shipped in four pieces over two pallets (8 & 12), and three pieces on one pallet (4 only)

Locate and secure base module to floor (8 & 12 only)

Stack upper filter module on base module

Position silencer and dust bin

Connect power and compressed air

Connect to extraction hood

Small Footprint: Allows for installation in areas where size is an issue and footprint becomes a concern.
Features
Lincoln Smart Connect
Intelligent Fan Control Technology
Small Footprint
Automatic Filter Cleaning System
Typical Applications
Industrial Applications such Automotive
Light and General Fabrication
Education
Maintenance
Job Shops
Welding Positions
Shielding Gas
Special Features
Service Information
Documentation