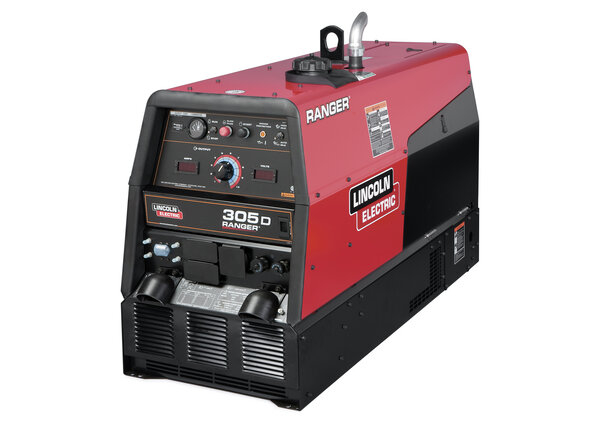 Choose the Ranger® 305 D for extended fuel efficiency and compatibility with diesel-powered fleets. The small footprint offers up to 305 amps of multi-process welding output and 10 kW single-phase AC power for motor starting, tools, and inverter welders for extended range and process capability.
Features
Expanded Capabilities – Offers up to 305 amps of welding current to tackle numerous welding and carbon arc gouging applications. Select one of four basic process modes including CC-Stick, Downhill Pipe, DC Touch Start TIG®, and CV-Wire.
Generator Output – Provides up to 10 kW of continuous single-phase power to run industrial tools such as plasma cutters, pumps, or inverter welders.
Patented Chopper® Technology – Experience premium arc performance with minimized spatter for stick or pipe welding. Features a built-in "hot" start for easier starts and restrikes.
Precision Tuning – Digital weld meters for amps and volts makes it easy to precisely pre-set your procedures and monitor actual welding output. Utilize Arc Force control for a soft or more forceful digging arc.
Reliable Operations – Engineered tough and field proven for ruggedness and durability to meet the most challenging job site needs and harshest environments.
Industrial Diesel Engine – Powered by a 18.8 hp, naturally aspirated Kubota® diesel engine. Runs smooth and quiet while meeting EPA Tier 4 Final compliance.
Product Weights & Dimensions
| | |
| --- | --- |
| Dimensions (H x W x D) | 29.9 in x 21.5 in x 52.3 in (759 mm x 546 mm x 1327 mm) |
| Net Weight | 698 lbs (317 kg) |
Machines
Machines Processes
Stick (SMAW)
Gouging (CAC-A)
TIG (GTAW)
MIG (GMAW)
Flux-Cored Self-Shielded (FCAW-SS)
Flux-Cored Gas-Shielded (FCAW-G)
Max Rating
305A / 29V / 100% @ 104°F (40°C)
Output Range by Mode
CC-Stick: 20 – 305 Amps, Downhill Pipe (CC): 40-300 Amps, Touch Start TIG: 20 – 250 Amps, CV-Wire: 14 – 29 Volts
Open Circuit Voltage
60 Peak OCV at 1800 RPM
Rated Gouging Carbon Diameter
3/16 in (5.0 mm)
Engine Driven Welders
Single Phase Auxiliary Output
10,000 Watts Continuous, 120/240V
Auxiliary Output Frequency
60 Hz
Receptacle Types
NEMA 5-20R
NEMA 14-50R
Engine Brand & Model
Kubota® D722
Engine Description
3 Cylinder Naturally Aspirated Water Cooled Diesel Engine
Engine Horsepower
18.8 hp (14.0 kW)
Engine Block Size & Displacement
43.9 cu. in (798 cc), Bore x Stroke - 2.64 in x 2.68 in (67 mm x 68 mm)
Emissions Rating
US EPA Tier 4 Final
High Idle Operating Speed @ Rated Output
3600
Low Idle Operating Speed
2450
Sound Rating @23 ft. (7m)
80.6 dBA
Fuel Tank Size (US gal.)
12 US gal.
Fuel Tank Size (L)
45.4 L
Oil Capacity (qts.)
3.4 qts.
Oil Capacity (L)
3.2 L
Coolant Capacity (US gal.)
.85 US gal
Coolant Capacity (L)
3.6 L
Application
Typical Application
Construction
Cross Country Pipeline
Construction & Field Erection
Maintenance & Repair
Oil & Gas
Power Generation
Structural fabrication
Structural welding
Warranty
| | |
| --- | --- |
| Warranty | 3 Years Parts and Labor - Engine warranted separately by engine manufacturer |