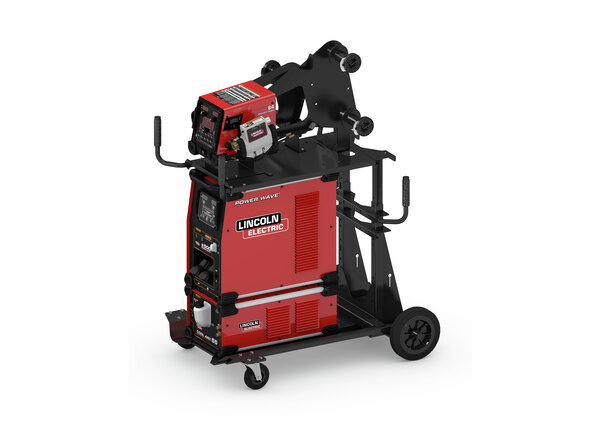 Features
Pre-assembled plug and play package designed to get you up and running within minutes
Dual Process ready - Run HyperFill and a single wire process on the same system
CheckPoint ® production monitoring technology easily tracks essential welding and system data
Solution Requirements » HyperFill® is a patented and licensed twin-wire MIG solution that is designed to perform specifically with select Lincoln Electric welding wire. The solution requires a licensed waveform which may require an additional purchase. For more details, reference document MC20-106.
What's Included
• Power Wave® S500 (K2904-1) • Power Feed® 84 Dual Wire Feeder (K3330-3) • Cool Arc® 55S Water Cooler (K3086-2)(1) • Magnum® PRO Water Cooled 500A Gun (K4522-2-10-564) • 7 ft. Water Hose Kit (K4544-7) • HyperFill Dual Reel Cart Kit (K4630-1) • 4-Ball Inlet Guide (K1551-2) • HyperFill .035-.040 (0.9-1.0 mm) Drive Roll Kit (KP4388-1) • HyperFill Diffuser (KP4481-1) • HyperFill .035 Contact Tip (KP4482-035) • 1/8 in. Recess Nozzle (KP4523-1-75R) • 15 ft.
5/64 in. Liner (KP44-564-15) • Standard Duty Wire Reel Stand (K3342-1) • Magnum® PRO Curve™ 300A Gun (K2951-2-10-45) • Standard .040-045 (1.0-1.1 mm) Drive Roll Kit (KP1505-045S) • Work Lead Package (K2149-1) • Electrode Cable (K1842-10) • ArcLink® Cable (K1543-8) • Dual Cylinder Cart (K3059-5) • Gas Y Fitting (KP4773-1) • Harris Flowmeter Kit (3100211)
Service Information
Documentation
Application
Typical Application
General Fabrication
Heat Exchangers
Heavy Equipment
Heavy Fabrication
High Pressure Piping
Offshore
Oil & Gas
Petrochemical
Petrochemical Industry
Pipeline & Offshore
Piping
Power Generation
Power Plants
Pressure Vessels
Process Piping
Railcar Fabrication
Robotics/ Hard Automation
Shipbuilding
Structural Fabrication
Structural Welding