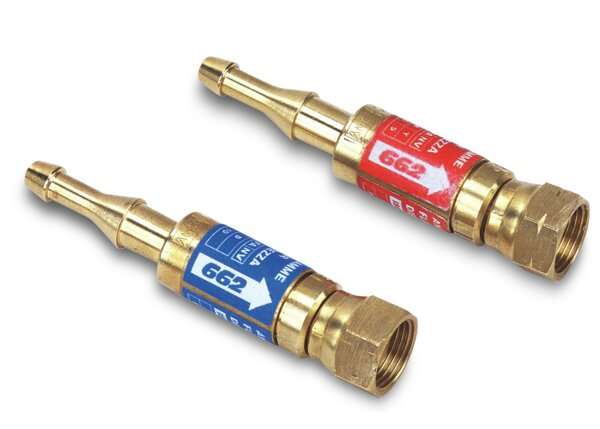 SECURTOP flash back arrestor devices offers a complete range compatible on regulators, torches, or simply on hoses. All installations must be equipped with flash back arrestor systems to guarantee you optimal security. All safety devices of the SECURTOP series are compact and meet the EN ISO 5175-1 standard.
Feature.Products.PDP.DetailsMain.Features
Characteristics : 35 m3/h in Oxygene ; 5,5 m3/h in Acetylene at 1,5 bars
Safety device compliant with EN ISO 5175-1; must be used on oxygen & fuel gas line close the blowpipe
High pressure resistance : All SECURTOP 662 devices have passed hydraulic tests conducted at 100 bar.
Connection security tested : The models for rubber hose have a hose connection with special double section, tested in accordance with the requirements of the EN 1256 standard to ensure ever higher safety of use with high resistance to accidental disconnection of the rubber hoses, even under axial loads of up to 850N (approx. 85 kg).