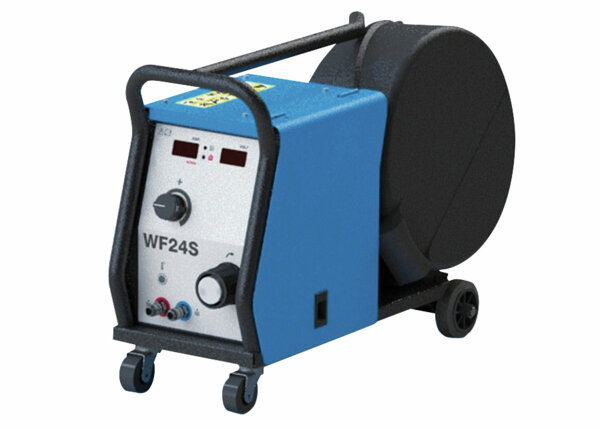 The WF24S is wire feeder designed to withstand extreme environmental conditions. With this feeder, there is a focus on ruggedness construction, physical dimensions and ease of use. The result is an incredibly rugged, protective casing as standard complete with undercarriage for use under tough industrial conditions. WF24S wire feeder is meant for big D300 (16kg) wire spools, solid or cored wire (including Innershield). It's equipped with a rugged 4 roll wire feed unit, 2/4-step, run-in, gas pre-flow, wire inch and gas purge. Two clear digital meters display the welding voltage and amperage. The WF24S allows to work with in Synergic mode.
Feature.Products.PDP.DetailsMain.Features
Small, rugged and easy to handle feeder with bright, digital voltage and ammeter.
Equipped with wire drive system with four large drive rolls and a powerful motor.
Continuous control of wire feed speed.
Burnback – preventing the wire sticking in the weld pool.
Cold inch control – used to feed the wire into the torch.
Equipped with wheels as standard.
Gas purge – to strike the arc with full shielding.
Trigger mode selection – for standard two-steps or interlocking four-steps.
Service Information
What's Included
Drive roll kit 1.0-1.2mm for Steel