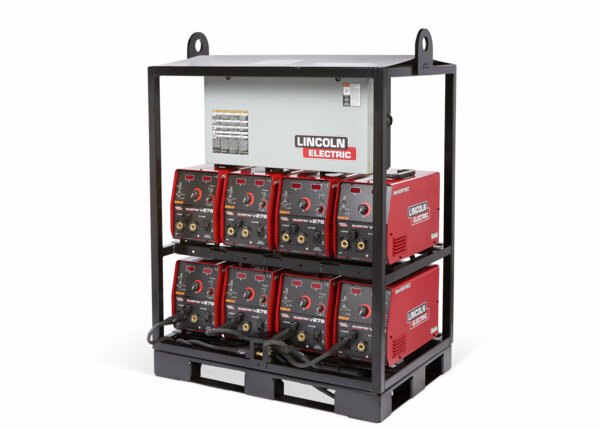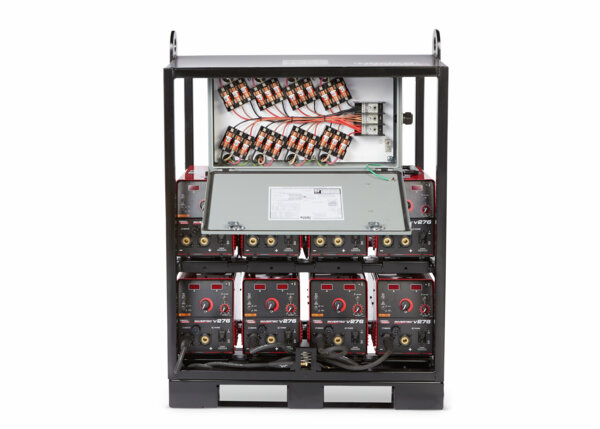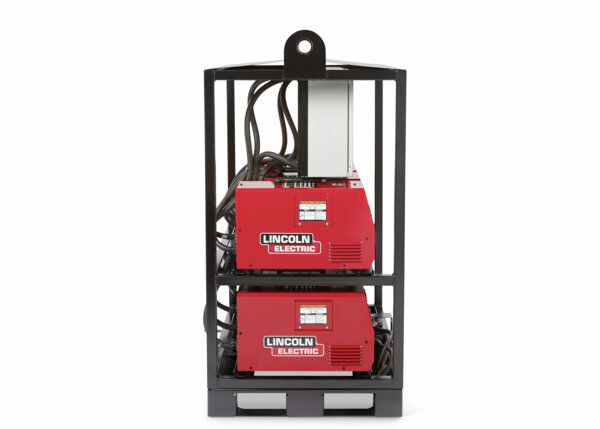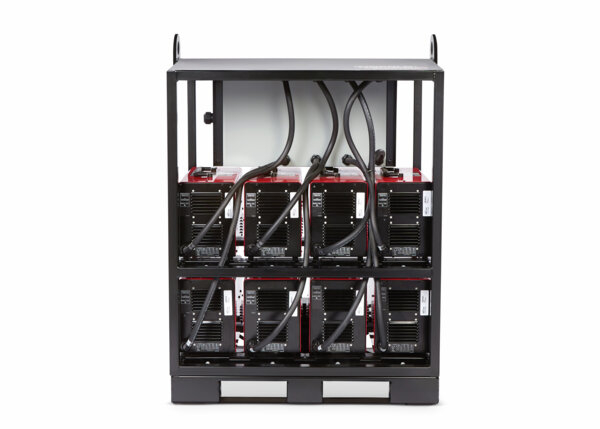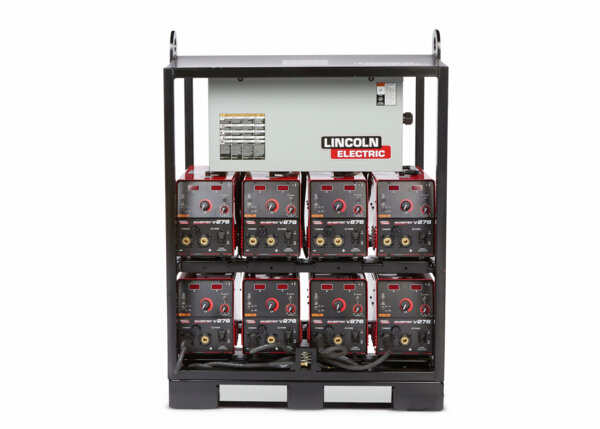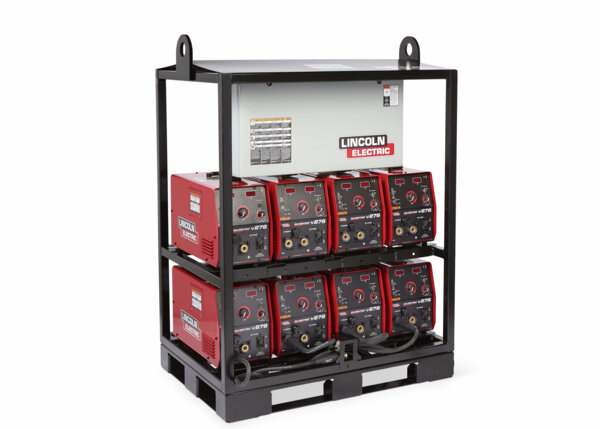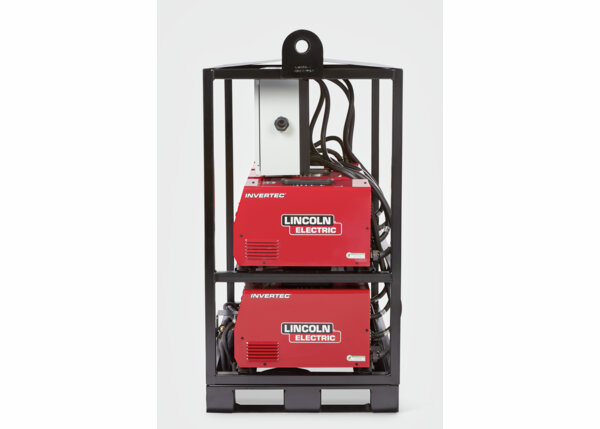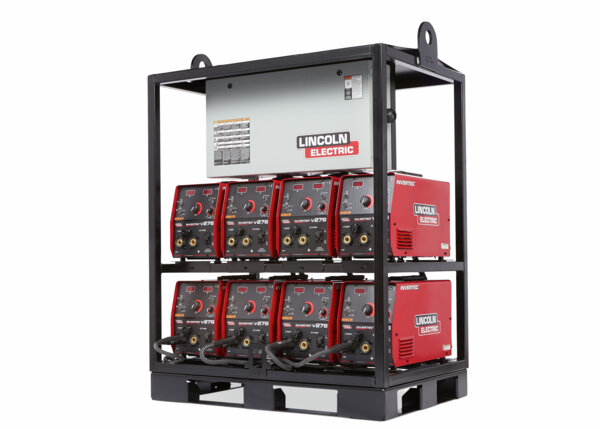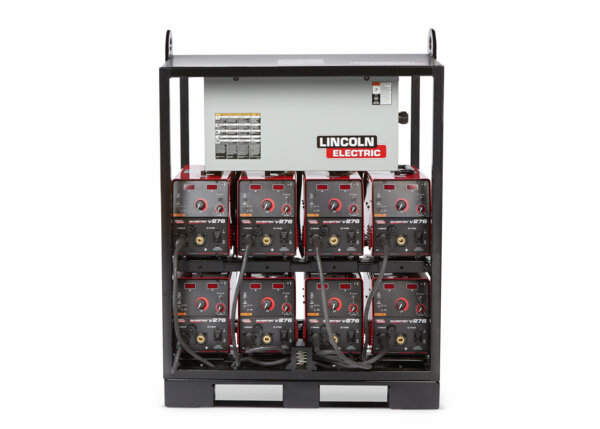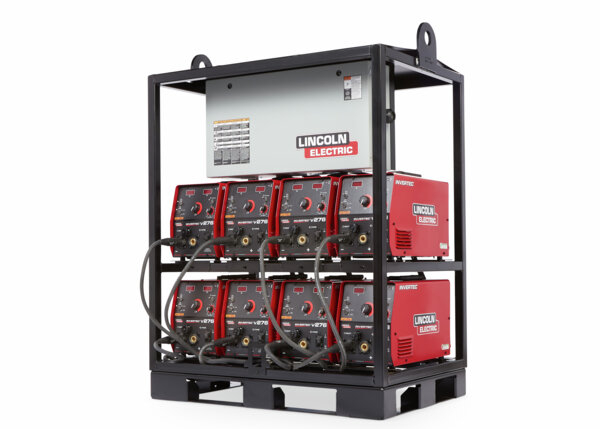 Lincoln Electric's rack systems are ideal for grouping several inverter power sources in a portable industrial-grade package for construction and other environments.
Features
One easy connection – Allows power sources to be connected with one primary power drop.
Two overhead lifting eyes, two fork lift slots, and four heavy duty optional casters - Provide ease of portability.
Work leads and common ground are included.
Individual fuses – Provide overcurrent protection for each power source.
The power sources are factory installed in the rack and wired to the main power distribution panel.
What's Included
Eight Invertec V276 (Tweco) - K4868-1 - power sources
4 work lead
Common work stud
stud cover
Rack and distribution panel
Service Information
Documentation
Product Weights & Dimensions
| | |
| --- | --- |
| Dimensions (H x W x D) | 58 in x 42 in x 29 in (1,474 mm x 1,067 mm x 737 mm) |
| Net Weight | 750 lbs (341 kg) |
Machines
Machines Processes
Stick (SMAW)
Gouging (CAC-A)
TIG (GTAW)
Amphenol Pins (type of connector)
6
Work Lead Connector Type
Tweco
Basic Specification
Input Voltage
208/230/380/415/460/575 VAC
Input Hertz
50/60 Hz
Input Phase
3 Phase
Output Range
20-275 A
Rated Output
275A/31V/35%,
250A/30V/60%,
200A/28V/100%
Application
Typical Application
Construction
Structural Welding
Warranty
| | |
| --- | --- |
| Warranty | 3 Years Standard |