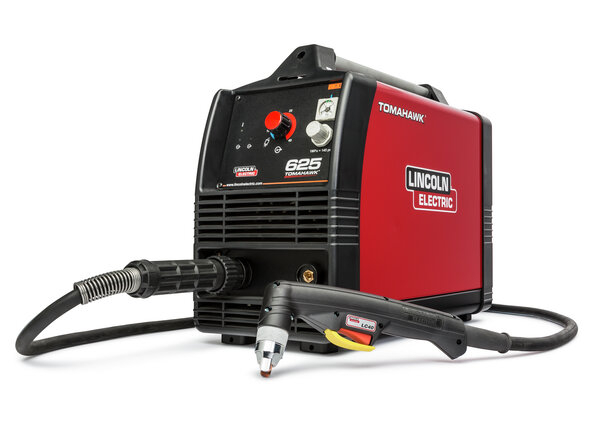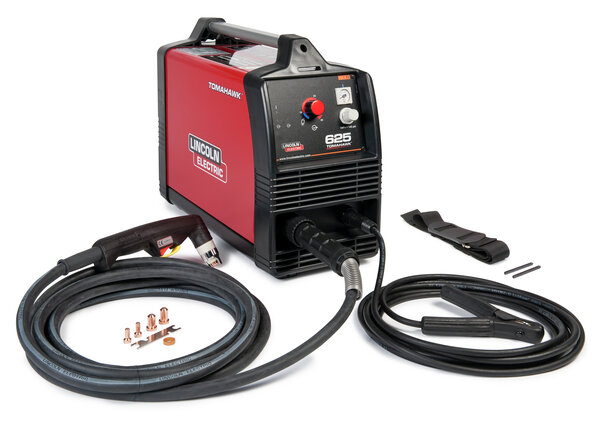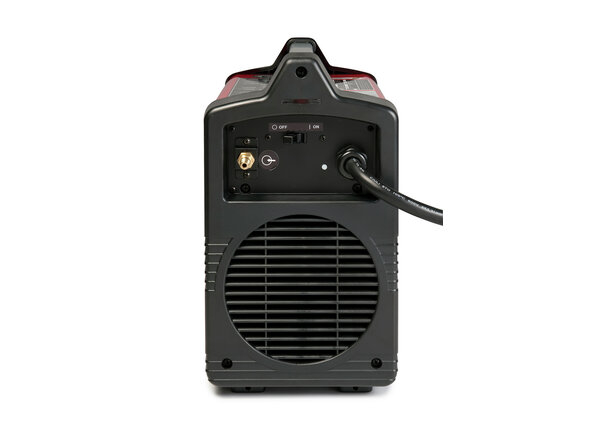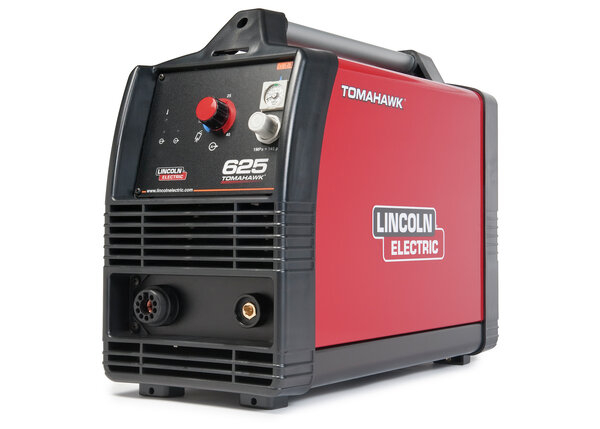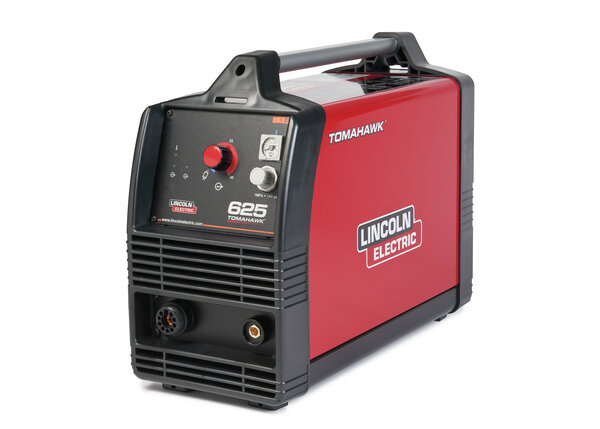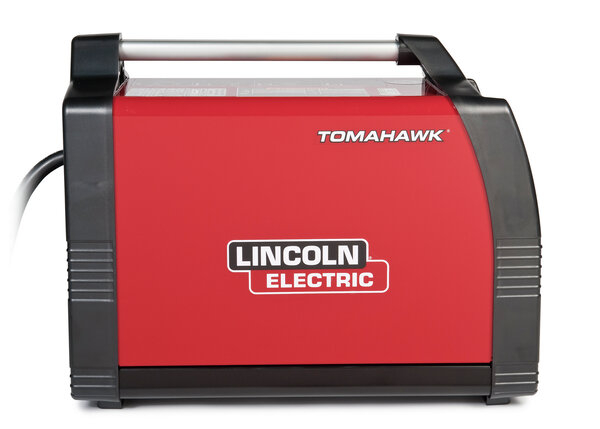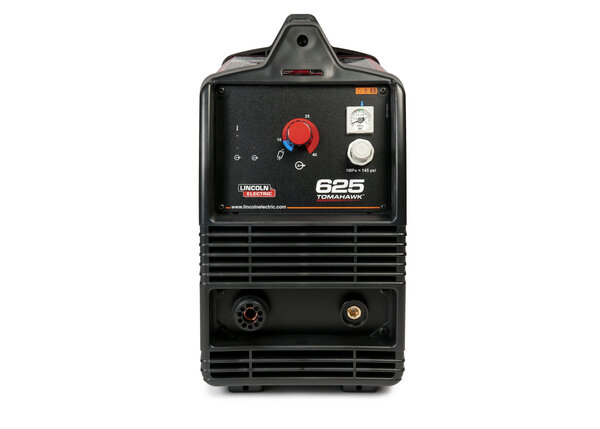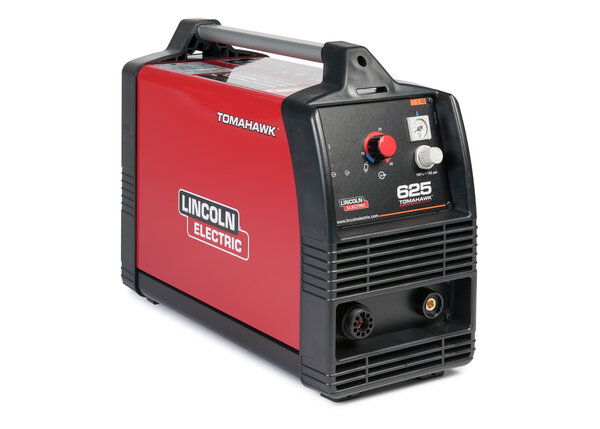 Plasma Cutting - Anywhere, Anytime
Tomahawk 625 plasma cutting systems are portable enough to carry to any jobsite. Hook up the compressed air, grab the torch and start cutting right away
Lightweight and Portable – Easily carried by one person.
Continuous Output Control – Focus the arc for different material thickness.
Touch Start System – Reliable plasma arc initiation without high frequency.
Rapid Arc Restrike – Fast cutting through gaps, even expanded metal.
Front Panel Purge Control – Makes it easy to set the air flow rate without initiating the plasma arc.
Cool Operation, Long Consumable Life - New electrode and nozzle design helps you save money in the long run.
Added Safety – Our Parts-in-Place system detects correct installation of consumables and torch.
Engine Drive Compatible – Select a Lincoln Electric Ranger® or Vantage® to power your Tomahawk® in remote locations

Optional Machine Plasma Torch

 available for use on CNC plasma cutting tables.
What's Included
LC40 hand torch and 20 ft. (6 m) cable with electrode | nozzle 40A | swirl ring | retaining cap (standard) | drag spacer
Air regulator and pressure gauge
Internal water separator
Work clamp and cable
Spare consumables include (2) electrodes | (2) nozzles 40A | (1) swirl ring
Shoulder strap
Input power cord
Service Information
Documentation
Machine Inputs & Outputs
| | |
| --- | --- |
| Phase 1: Input Voltage #1 (Voltage/Phase/Hertz) | 208/230/1/50/60 |
| Phase 1: Rated Output #1A (Current/Voltage/Duty Cycle) | 24A/89.6V/100% |
| Phase 1: Rated Output #1B (Current/Voltage/Duty Cycle) | 29A/91.8V/60% |
| Phase 1: Rated Output #1C (Current/Voltage/Duty Cycle) | 40A/91.8V/35% |
| Phase 1: Input Current at Max Rated Ouput #1 (Current) | 36.8A |
Product Weights & Dimensions
| | |
| --- | --- |
| Dimensions (H x W x D) | 15.2 in x 8.5 in x 18.9 in (385 mm x 215 mm x 480 mm) |
| Net Weight | 34 lbs (15.42 kg) |
Machines
Machines Processes
Plasma Gouging
Plasma Cutting
Max Rating
40A
Plasma Machines
| | |
| --- | --- |
| Torch Included | Yes |
| Gas Supply | Air or Nitrogen |
| Gas Pressure Required | 80 - 110 psi (6 -7.5 Bar) |
| Recommended Cutting Capacity ( Mild Steel) ( In/ft) | 1/2 in @ 20 ipm |
| Recommended Cutting Capacity ( Mild Steel) (mm/M) | 12.7 mm. @ .51 m/min |
| Maximum Cutting Thickness ( Mild Steel) ( In/Ft) | 5/8 in @ 12 ipm |
| Maximum Cutting Thickness ( Mild Steel) (mm/M) | 15.9 mm. @ .30 m/min |
| Maximum Severance ( Mild Steel) ( In/Ft) | 3/4 in @ 5 ipm |
| Maximum Severance ( Mild Steel) (mm/M) | 19.1 mm. @ .13 m/min |
Application
Typical Application
Construction
Automotive
General Fabrication
Marine Fabrication & Repair
Structural Fabrication
Warranty
| | |
| --- | --- |
| Warranty | 3 Year on Machine, 1 Year on Torch ( Two Year Extended Warranty available in the U.S.A. and Canada) |
Popular Filler Metals, Expendables and Consumables